Service Professionals are vendors who you add to your account. They do not have to sign up for Hemlane and will not have to create an account on our system. Service professionals:
have their contact information stored in Hemlane for your reference.
are added to a maintenance tickets in order to facilitate repairs and other work.
receive emails with the maintenance details.
can respond and communicate via email, with all of the information going directly into Hemlane.
Hemlane Professionals are users who have an account on Hemlane. They are typically licensed agents who can support you with:
Property Showings
Move In/Out Inspections
Other property management related tasks such as:


Lease Negotiations
Meet with Repairman
Quarterly Inspections
You can only use Hemlane Professionals if your property is listed on the Smart package. Hemlane Professionals can charge a fee for tasks to other Hemlane users, and typically charge a one-off, a la cart charge for the specific tasks undertaken.
To add either type of professional:
Step 1: Select [Service Professional] on the left hand panel
Step 2: Click [Add Professional]
Step 3: Select [My Service Vendor] or [Hemlane Professional]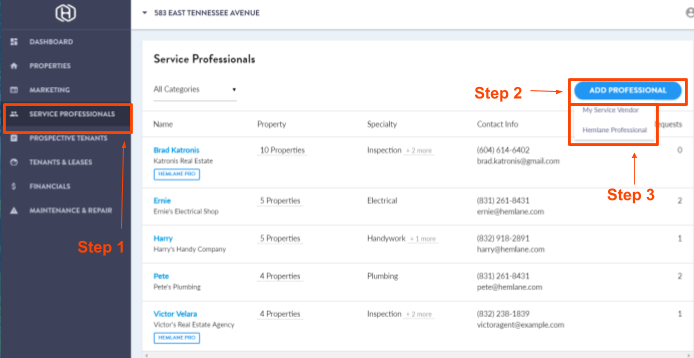 Step 4: If you are adding a Service Professional then complete the following form including:
Name & Company
Address
Email & Phone
Service Categories 
Notes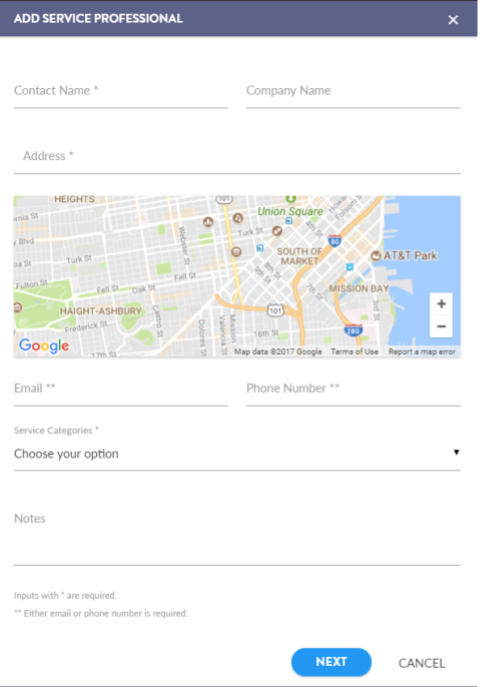 Step 5: If you are adding a Hemlane Professional, then [Enter] their name or email to search and select the corresponding service professional. If you are on the Smart package and do not know of a local agent, then please reach out to us. We are happy to introduce you to the agents.