There are two options to get your Hemlane financial data into Quickbooks:
Syncing your bank account to Quickbooks
Downloading the Hemlane data and importing (uploading) it into Quickbooks
A very important note! You should be cautious to avoid double entry and perform both options. The best plan is to select one of the two options.
#1: Syncing your bank account to Quickbooks
Pro: Any automatic payment from Hemlane will automatically load into Quickbooks through your bank account.
Con: To classify payments at the property level, you will need to match the reference IDs that we put into the bank description to each property
This article explains how to get the line item detail from your bank transactions
#2: Downloading Hemlane transactions and importing to Quickbooks
Pro: When you import (or upload) the data into Quickbooks, you can select the field mapping and automatically get the property and unit information synced by your Quickbooks class codes.
Con: In order to automatically upload, you need to use a Quickbooks App that imports CSV files. These apps are roughly between $10 - $20 per month.
Here is the process on how to import your transactions to QuickBooks:
Step 1: Click "Financials" on the left panel
Step 2: Click "Download" towards the middle-right side of your screen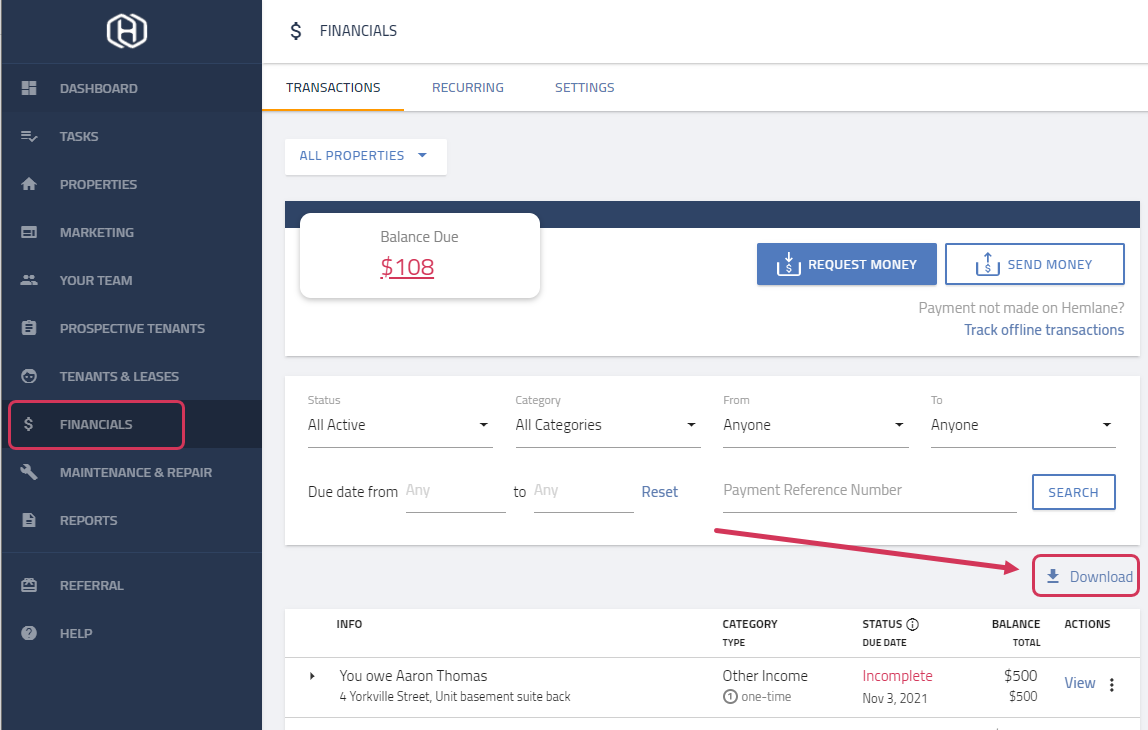 Step 3: Use a Quickbooks Importer App to upload the transactions.
These tools will allow you to map the columns on the Excel (or CSV) file to certain fields, including Class tracking. It will allow you to get your reporting at a property and/or unit level.
Here are some ProAdvisor Pick Quickbook apps you can use:
Excel Transactions Importer and Deleter - $9.99 per month
Transaction Pro Importer/Exporter - $19.99 per month
Note: To map the property information from Hemlane to your Quickbooks Class tracking, you can do a VLOOKUP and replace the property address with the specific Quickbooks Class tracking.
key words: quickbooks, QB, import transactions