Hemlane partners with licensed real estate professionals to build community and support for rental management. We connect professional licensed agents and managers with real estate investors and owners. 
Here are some quick tips to get you started.
What is an agent profile? 
An agent profile helps to promote your expertise in leasing and/or management to the community. You can create your agent profile here.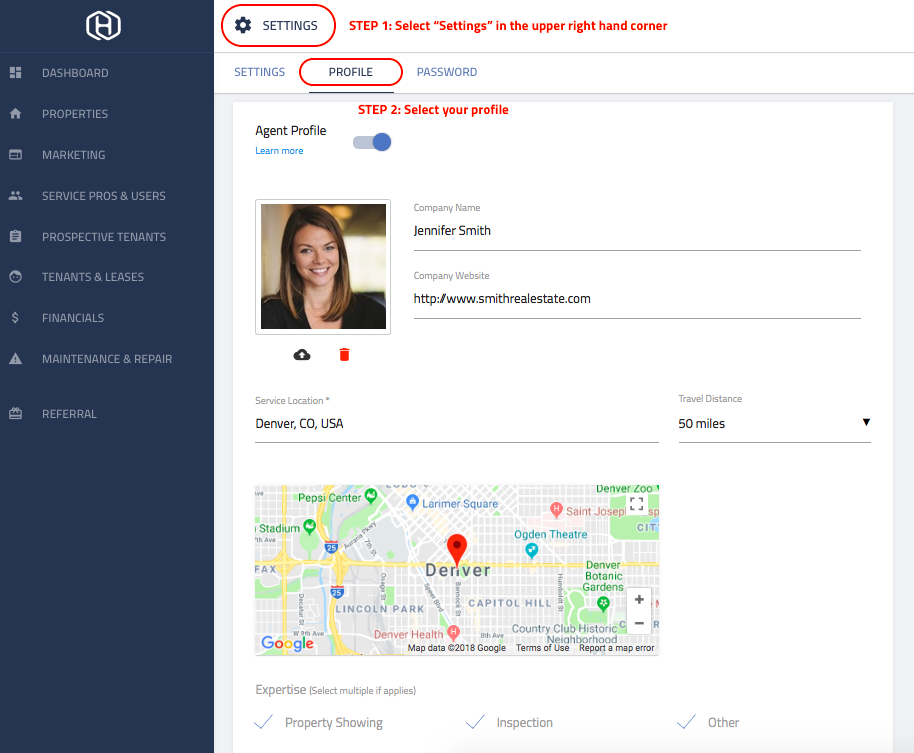 Who will see my agent profile? 
Your agent profile is shown to rental owners looking for local leasing and/or management. The most common use case is owners who feel comfortable remotely managing their rentals on Hemlane, but need someone local to perform rental showings, move in/out inspections, and other local licensed activities.
How do rental owners connect with me? 
For our rental owners on Hemlane's upgraded (Smart) package, they have access to view your profile. They can directly message you via the contact information you provide. When they are ready to add you to their rental property, then they can add you to their leasing and/or management activities.
How much does it cost to create a profile? 
Your profile is completely free. Hemlane's mission is to build and to foster a community that makes owning a rental property less hassle.
What should I charge owners for my services? 
We get asked this question frequently. And, it really depends on your location, qualifications, brokerage, and involvement with the property. In most cases, real estate agents and managers will charge per visit (e.g. per showing) or a flat rate (e.g. $750 for unlimited property showings until the rental is leased). 
How do I get familiar with the rental property?
You want to familiarize yourself with all of the details on the rental property. The best place to start is the "Marketing" tab, where it lists features, location, rental price, etc. The owner will also be able to answer questions such as "how do I access the property, etc."
What to do before your first rental showing?
The most frequent real estate activity requested on Hemlane is property showings. Before you head out the rental, discuss fair pricing with the owner in advance.
You will want to get 100% acquainted on the Hemlane platform, including adding times when prospective tenants can schedule rental property showings with you. 
When a tenant books a time to view the rental property with you, both you and the owner are notified. The tenant's qualifications (e.g. credit and income range) are also provided. This information is helpful if you determine the showing should be canceled due to qualifications.
What is the time commitment for Hemlane?
As a licensed agent under your brokerage, you can choose your own schedule, taking on as few or as many jobs as you would like. Typically, the best times to show a rental property (or meet with tenants) is during lunch on weekdays and early afternoon on weekends. And when you are meeting with tenants or prospective tenants, make sure to call the tenant ahead of time to confirm the appointment and verify their identity (this also helps from a safety perspective).
How can I succeed with my agent profile?
Once you build up your reputation on Hemlane, then you will get a lot more business through our platform. Please make sure that you are always on time for any appointments. Aim to be there at least 10 minutes before your scheduled time.
Also, it never hurts to over communicate with tenants and owners. Calling is a best practice in the industry. Before meeting with a tenant, it never hurts to call and confirm they will be on time. This is especially applicable when there is only one tenant scheduled. And after every time that you are at the rental property, you should communicate online (or with a call) to the owner. 
How does Hemlane get involved?
Hemlane is the technology platform where the owners will market the rental property and communicate with tenants and prospective tenants (online application, screening, lease, etc.). When you have questions about that process, then feel free to reach out to our Support Center to get answers.
keywords: for managers, rental profile, manager profile, leasing agent profile, agent profile, connecting with owners, connect to owners, connect with users