Written by Ian McDougall
Inspections are a very important process in the rental lifecycle. They provide transparency and confirmation that the lease is being followed by management and residents.
Here are your options to prepare for a rental inspection:
Option #1 - Inspection coordinated by Hemlane Leasing
Move-out inspections are not included with the Hemlane subscription but are available for purchase as an add-on. You can learn more about our Leasing Services.
Option #2 - Offline form
Option #3 - Free online app
For tech savvy landlords and managers, this online tool called Z-Inspector for property inspections. Hemlane has no affiliation or referral program with this company! We just like providing our users with helpful resources for their rental business. And, we want landlords to stay out of the courtroom. Z-Inspector is a mobile application available in the Apple 'App Store' (for iOS users) as well as the Google Play store (for Android users).
The app helps property manager effortlessly and seamlessly perform inspections. Some of the largest benefits include:
Customization

- The user enters the number of rooms and outdoor spaces, which configures the inspection checklist to be specific for the rental property.

Signature

- Z-Inspector offers a signature feature, which is a great way to minimize any security deposit disputes.
The app can be a bit confusing, so we created steps to get started with this app:
STEP 1: Z-Inspector Registration
Prior to downloading the application on your phone, visit Z-Inspector's website and create an account.
This must be done prior to using the app.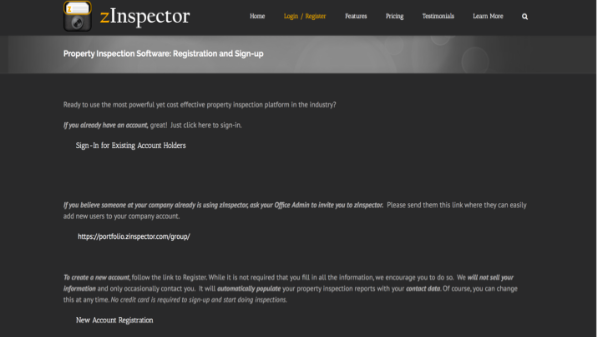 STEP 2: Account Options
There are five account options. Start with the Basic (free) version before you commit to anything else.


STEP 3: Application Download
Head over to either the Apple App Store, or the Google Play store (depending on your ios / android mobile phone) and search for "Z-Inspector".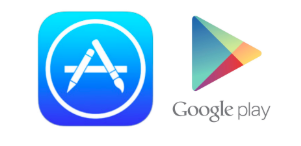 STEP 4: Opening the Application
The home page is the first screen you will see upon opening the app. To begin a property inspection, first you must input the property into the application.
To do this, select "New Property/Unit" from the Home Page.

STEP 5: Adding a New Property / Unit to Z-Inspector
#1: Select the Type of Property / Unit
Select either a single family / duplex unit, or a multi-unit apartment complex. You can also select manual for properties that are not easily defined as single family or as an apartment building.
#2: Fill in the basic information about the property
Enter some basic information, including address, property name, and the amount of units at the property.
#3: Fill in information about the units
Enter detail about the units themselves: numbering, number of beds/baths, etc.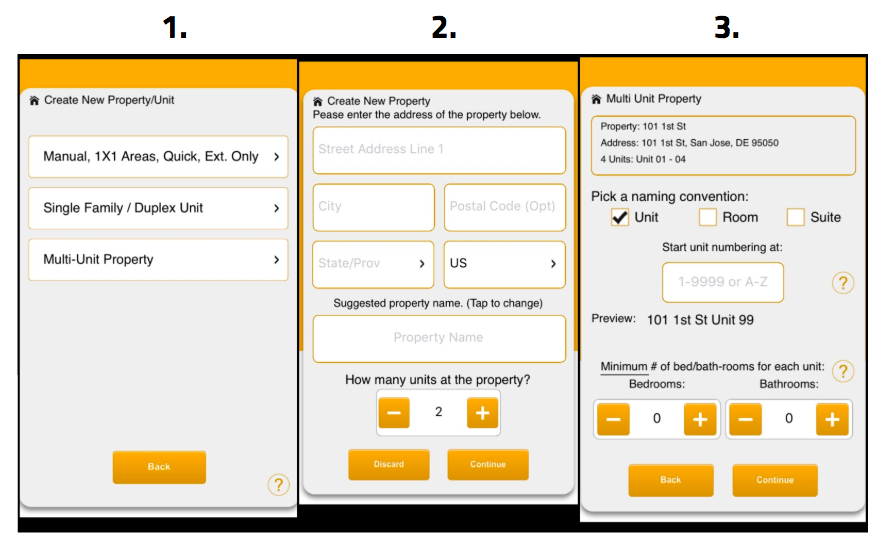 #4: Fill in further detail about the units
Select areas that all the units contain, and hit continue.
#5: Add common areas (such as a gym / lounge) and create the property by selecting the box at the bottom
Select common areas on the property (for multi-unit residences), review the areas included in each unit and hit create property.
(Note: you can add additional rooms to individual properties later, so only include the rooms that all units have at this time)

STEP 6: Property Inspection
After the property and all its units are uploaded to Z-Inspector, you can now perform move-in, move-out and annual property inspections!
Now, go to the "Property Management Inspection" page via the home screen to perform an inspection.
Select a property from the dropdown list that you wish to perform an inspection on.

Select the type of inspection you wish to perform and write the names of the tenants' present, if any (we always suggest having tenants present for inspections).

Fill out the status of the rooms. When something is not satisfactory,

it is very important to take photos or videos

to visualize it. We recommend photos and comments for every room to provide a more thorough inspection document.

Add a final comment and select any additional email addresses (besides your own) to send the report to.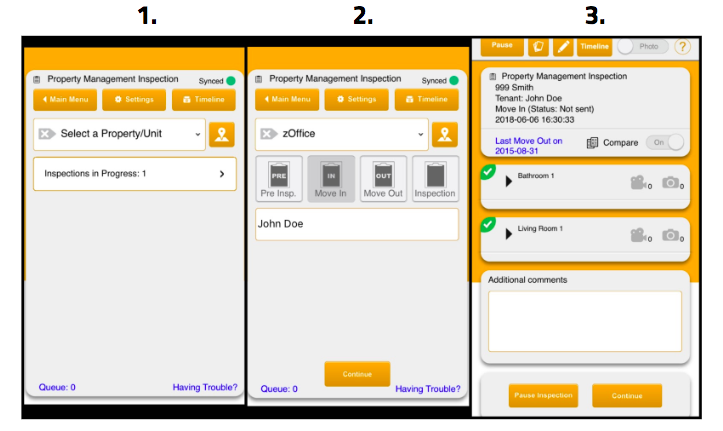 Select the required signatures, tenant and inspector, and then submit the inspection!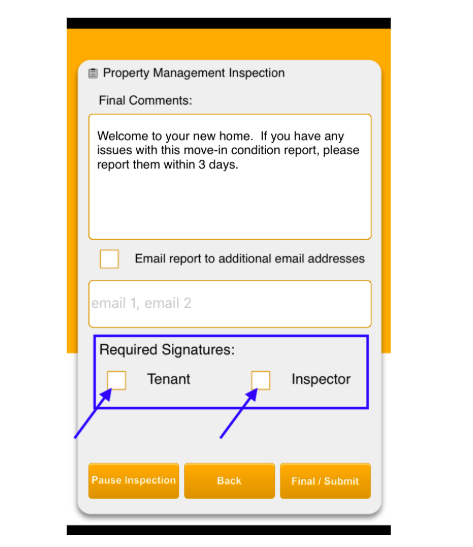 Note: We always suggest requiring both a tenant and inspector signature - this could be very important down the road for any potential legal issues.
STEP 7: Email and Upload into Hemlane
Once this information is emailed in a consolidated PDF (including photos!), then you can upload into the documents section in Hemlane.