Once you find a qualified tenant, you are ready to create a lease agreement.
Tip #1: Continue to advertise your rental until you have a signed lease, the security deposit, and first month's rent.
Tip #2: Make sure the lease is signed by all tenants, co-signers, and the landlord/manager.
Tip #3: Require a 48 hour turnaround for lease signature before proceeding to the next qualified applicants for lease signing.
Below is the process to get your lease prepared and uploaded into Hemlane. Since Hemlane is not a law firm or property manager, we cannot advise on the actual terms of the lease.
Approving applicants and uploading a signed lease
Prior to approving your applicant, please ask the resident(s) for the following information:
Confirmation on the move-in date
Names of any occupants under 18 years old (anyone over 18 should already listed as an applicant)
To approve your applicant(s) within Hemlane:
Step 1: Under your Prospective Tenants tab, select the "Qualification" section, here you can click "Approve" for the applicant group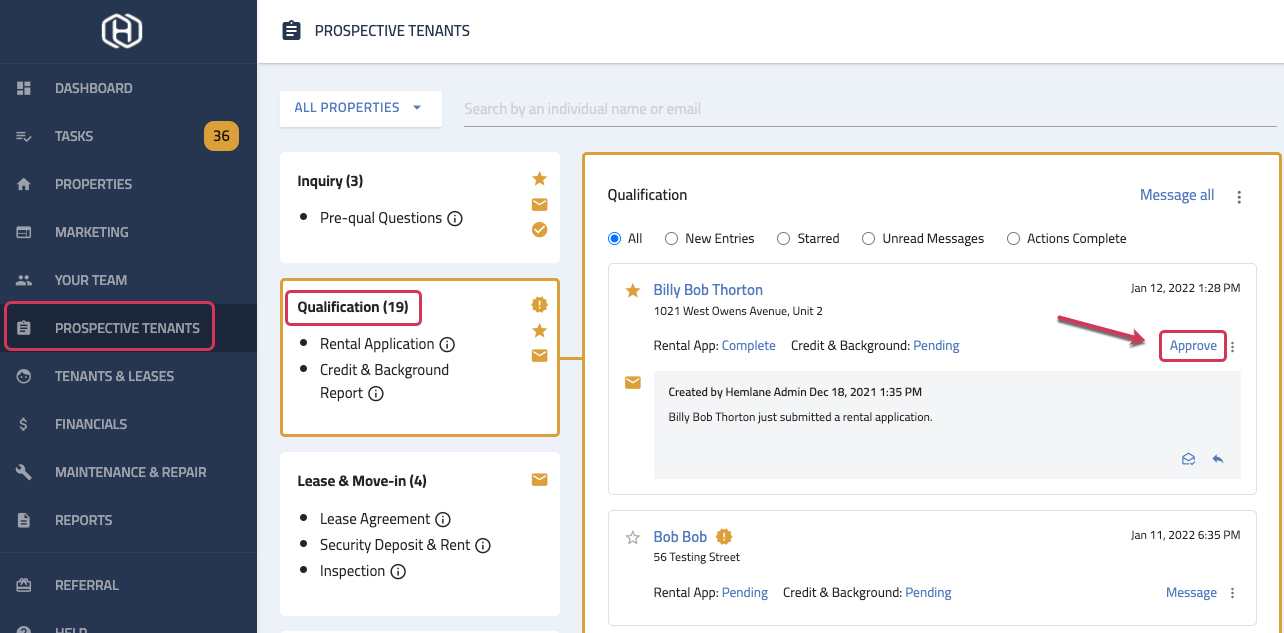 OR, you can approve them within the applicant group by clicking [Begin Move-In] under the qualification overview.
Step 2: After approving the applicants you will be prompted to approve the lease information associated with the applicant. This will be a high level overview of terms to include in the lease.
After approving, they will transition to the "Lease & Move-in" section of the Prospective Tenants tab.
Step 3: Complete your Move-in Checklist before you finish moving in the applicants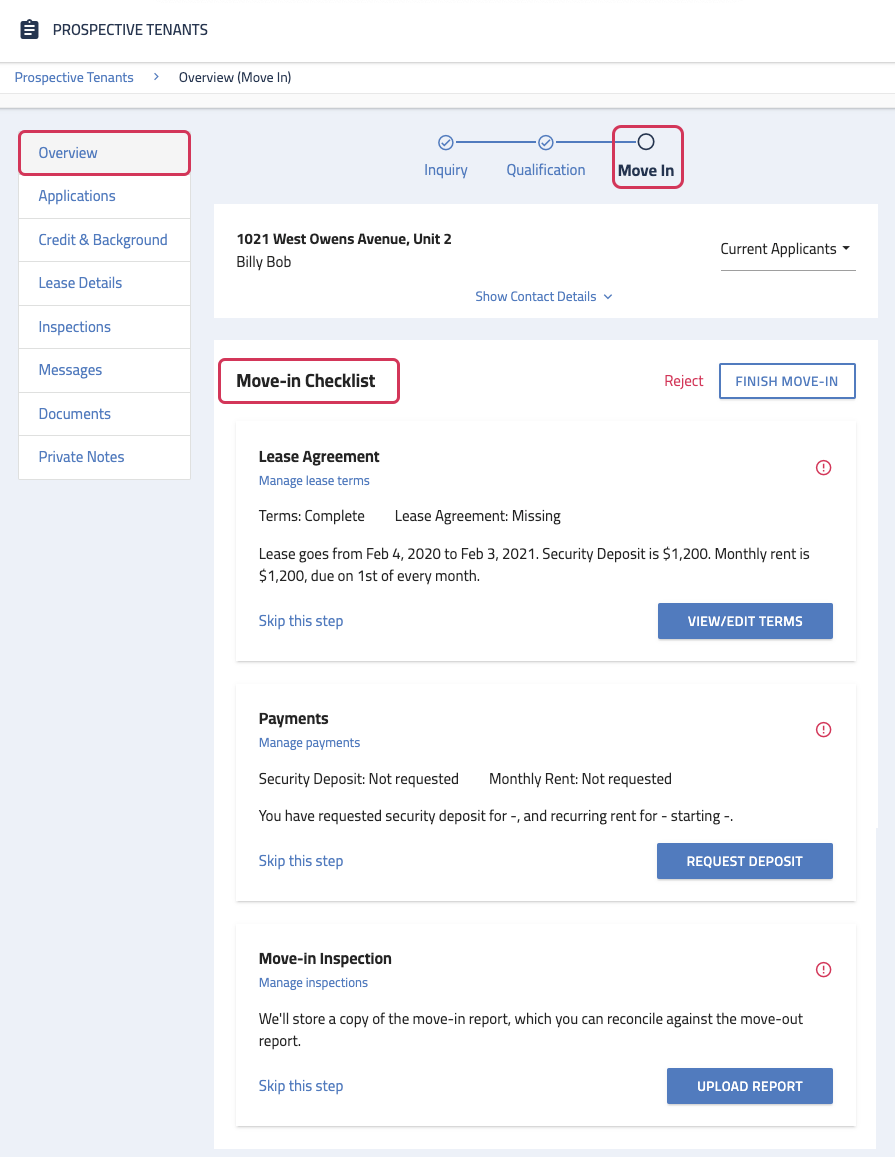 Terms to include in your lease
Read this article on best practices when creating your lease agreement. If you plan to use our online rent collection or maintenance coordination, please incorporate some language in the lease, such as the below (note: sometimes you just have a small field to enter information, so use your best judgement.
Rent Collection
Payments may be submitted via Hemlane's property management software (www.hemlane.com/for-tenants) via Tenant's choice of a manual or automatically scheduled process. Please do not delay in setting up your bank account as smaller bank accounts take 2 business days to verify.
Repair Coordination (

phone number for Essential and Complete packages only

)
Maintenance and repair requests can be submitted online at www.hemlane.com/for-tenants. Hemlane's repair coordination number, including for emergencies, is 415-417-1656.
Options for lease preparation (Essential and Complete packages only)
When your rental is on either the Essential and Complete packages, we provide two options for creating the lease:
Connection to a local property manager or agent: They can help you create a lease document using their local city or state specific forms. They typically charge a fee to put together the document.
Online forms through Rocket Lawyer: Hemlane is partnered with Rocket Lawyer, where they have online lease agreement here. Hemlane pays the monthly Premium subscription on your behalf. Here is what their Premium package includes.
Please check with your local associations, especially if you are in a city with higher regulations (e.g. ones with rent control), to confirm whether you need additional addendums, language, and terms than what Rocket Lawyer's leases provide.
Accessing and using Rocket Lawyer (Essential and Complete packages only)
Please send an email to support@hemlane.com to activate your Premium Rocket Lawyer subscription. Keep in mind that you must be a paying customer on either the Essential or Complete package. Your Rocket Lawyer login will be through www.rocketlawyer.com, and you will use the same email address that is on file with Hemlane. Rocket Lawyer has access to residential and commercial lease agreements for all 50 states!
Rocket Lawyer allows for e-signature. When you have completed the lease setup in Rocket Lawyer, it will ask for you to send out for signature. Rocket Lawyer will send reminder emails to tenants until they sign the lease. However, you may have a 48 hour turnaround time before moving to the next tenant.
Keywords: lease, residential lease agreement, rental application, legal document, create lease, rental agreement