Once you find a qualified tenant, who passes the Hemlane application and tenant screening, you are ready to create a lease agreement. Below is a step-by-step process on how Hemlane will help with the lease agreement.
Step 0: Getting set up to create your lease agreement
And as a word of advice, please do not take the property off the market (continue advertising it) until you have the following:
A mutually executed lease, signed by all tenants and cosigners (click here to learn more about the difference between a guarantor and a cosigner)
The security deposit
The first month's rent
When you are on Hemlane's Smart package, you have access to two options to create the lease:
Real estate managers and agents on Hemlane who can create it for you. They typically charge a fee to put together the document.
Rocket Lawyer, where they have online lease agreements for you. Hemlane pays the monthly premium subscription on your behalf.
Step 1: Smart Package Customers - Confirm you have access to Rocket Lawyer
You can send an email to support@hemlane.com to activate your Premium Rocket Lawyer subscription. Please keep in mind that you must be a paying customer on the Smart package. Your Rocket Lawyer login will be through www.rocketlawyer.com, and you will use the same email address that is on file with Hemlane. Rocket Lawyer has access to residential and commercial lease agreements for all 50 States!
To view what the Premium package includes, please refer to the package here.
Step 2: Log into Rocket Lawyer to start your lease
Once Hemlane has activated your subscription, then you can start the Rocket Lawyer lease agreement here. The leases are State-specific and you can go through the workflow of questions. Some quick tips as you create the lease:
Best Practices for Leases: Read this article on best practices when creating your lease agreement. 
Maintenance Coordination: Under the management section, you will want to add Hemlane's maintenance phone number for emergencies. The maintenance and repair emergency line is (855) 720-0224 (dial 3).
Rent Collection: There will be a couple of selections for you. Please check the box that says direct deposit. At the end of the lease, you can "Advanced Edit" it and include the below clarification if desired. Please keep in mind that some states require an offline payment option for rent collection,
Payments are to be submitted via Hemlane property management software (www.hemlane.com) via tenant's choice of a manual or automatically scheduled process.  Please do not delay in setting up your bank account as smaller bank accounts take 2 business days to verify.
Step 3: Send out the lease for e-signature
Rocket Lawyer allows for e-signature. When you have completed the lease setup in Rocket Lawyer, it will ask for you to send out for signature. You can find the tenants' contact information below for the signatures. You will want to add anyone over the age of 18 on the lease (and any cosigners).

Step 4: Confirm signatures
Rocket Lawyer will send it out for e-signature and also send reminders. We typically recommend providing 2 business days for a tenant to execute on signing the lease and starting the transit of the security deposit and first month's rent. A tenant will often tell you they are signing a lease while still shopping the market, and therefore it is best practice to provide some urgency for commitment. 
Step 5: Set Move In Date
Once the lease is mutually executed and signed by all parties, you can upload it under the Documents section in Hemlane and set a move in date for the applicant in Hemlane.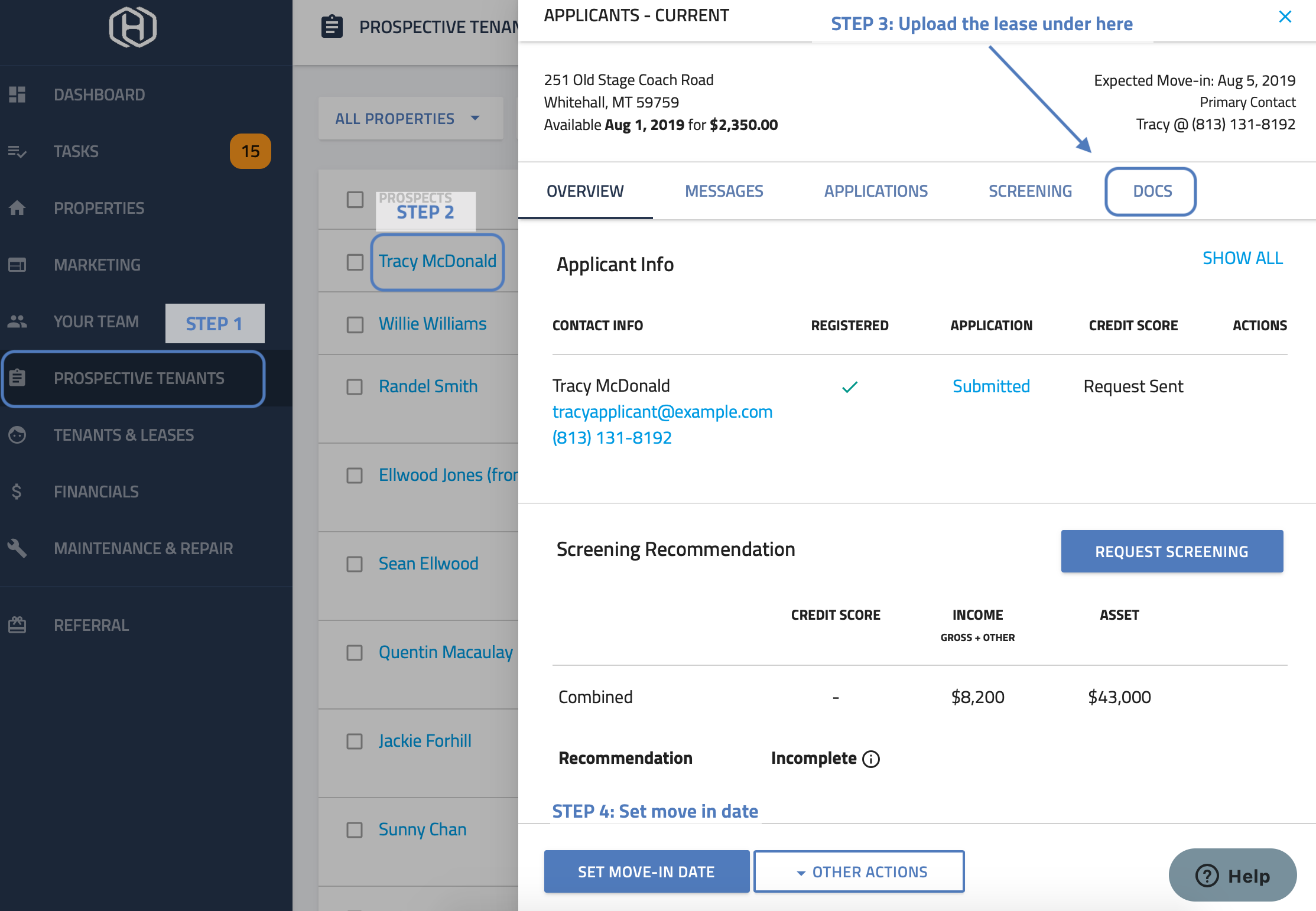 Keywords: lease, residential lease agreement, rental application, legal document