Evictions can occur due to a variety of reasons and are sometimes unavoidable. The most common reason for an eviction is failure to pay rent or other violations made of the lease terms. Hemlane can help you prevent evictions by finding qualified new tenants and assist you with the eviction process should you ever need to do so.
How does Hemlane help prevent evictions?
To start, Hemlane provides a comprehensive background and credit screening with recommendations on prospective tenants to help you avoid evictions. We can also help you understand an applicant's credit score and how to work with applicants who might not have the highest credit score.
Our inclusive screening report includes eviction, credit, criminal, and income reports for your applicant. The report is a soft pull on their credit and will not affect their credit score. For more information on our screening report and how to request one within Hemlane, please view our articles, "How much does tenant screening cost and what does it include?" and "How do I request tenant screening (a credit and background check)?".
If you do find yourself in a situation where your tenant has delinquent rental payments, Hemlane can jump in to assist you with pre-eviction support.
What is included in pre-eviction support?
When requesting pre-eviction assistance on Hemlane, you can expect our team to assist with the following things:
Tenant Mediation
Creating and Serving Legal Notices
Local Attorney Guidance
The steps our pre-eviction team takes will help minimize the chance of your case going to court, saving you both time and money in the end.
Learn more about our services and FAQs here.
How much does pre-eviction support cost?
There is a flat fee of $375 that will be charged once tenant mediation has started. If your tenant pays their outstanding rent before tenant mediation begins, then you will not be charged.
How do I request pre-eviction support?
Step 1: Select the Tenants & Leases tab
Step 2: Click on the tenant group name
Step 3: Under the Overview section, click Request Pre-Eviction Support in the top right corner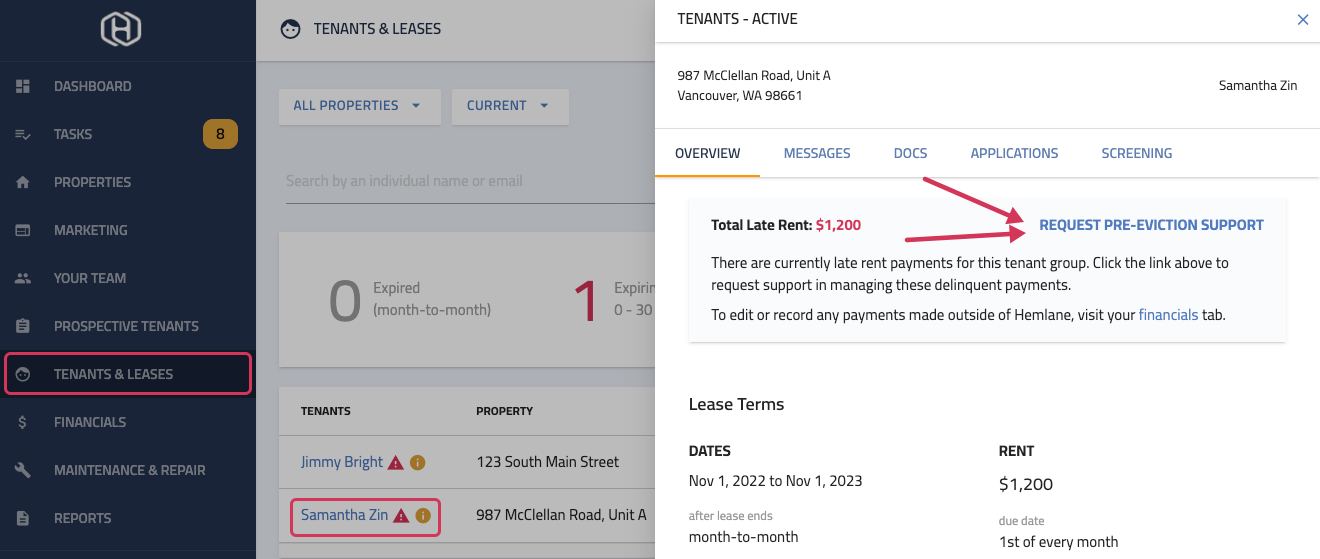 Step 4: Fill out the information in the request flow
Please note: If you do not see a request link on the tenant group profile, they do not have delinquent transactions logged in the financials tab.
How do I know my state's laws?
Our state law resource center includes eviction information and is a great reference to guide you through your specific state laws. We also recommend seeking out legal advice as they can assist you with any questions you have and provide the most up to date eviction laws for your state.
How do I report my tenant's late rent payments to the credit bureaus?
Hemlane does not currently have the ability to report evictions or delinquent payments through our system but we hope to have a feature like this in the future. In the meantime, here are some resources for sites that do offer this service:


Rent Recovery Service can help in reporting tenants to credit bureaus and can assist in retrieving delinquent payments. To look more into their services and pricing, please click the link here.
Rental Verification can help your tenants to report their credit to the credit bureaus. In this option, your tenant would manage the process and pay for this service in order to build their credit. To look more into their services and pricing, please click the link here.
keywords: evictions, evict tenant, rocket lawyer, legal advice, state laws, eviction resources, eviction