Hemlane knows the importance of getting a qualified tenant in your vacant unit as soon as possible. That is why we offer leasing assistance options that make this process smooth sailing for you!
To get started with a request for leasing assistance, click here.
What leasing services does Hemlane offer?
Leasing+
Bundle our Move-Out Inspection, Make Ready Coordination, and Tenant Placement+
$950 (+$100 deposit for the digital lockbox)
Move-out Inspection
$300 if purchased separately
We provide you with an inspection report with photos, and guidance so you can determine the scope of work to get your rental ready for the next tenant. We can perform a move-out inspection with or without the tenant present. 5-7 days prior to the move-out date, we will send the tenant an email with a link to schedule the move-out inspection.
Make Ready Coordination
$350 if purchased separately
We source, coordinate, and quality control the service professionals who will perform minor repairs, replacements, and cleaning. Please note, our pricing does not include the actual costs of repairs and cleaning.
Tenant Placement+
$400 (+ $100 deposit for the digital lockbox) if purchased separately
We'll handle finding, qualifying, and arranging tours for prospective tenants. Tenant Placement+ is like a virtual assistant and is an alternative to our Agent Connection service. Please note, we are not a property management firm.
This service includes:
Provides you with a rental market analysis and guidance on marketing the vacancy

Sources and pre-qualifies prospective tenants

Facilitates self-guided tours and authenticate the identity of prospective tenants

Coordinates rental applications and background checks

Notifies you of completed applications for you final approval

Provides you with tools to prepare and sign the lease

Coordinates collection of move-in funds and the actual move-in
Securing Access to the Property
For our Leasing+ bundle, we typically ship our digital lockbox to the outgoing tenant and they use it to surrender their keys during their move-out. It is required to use our digital lockbox with our Tenant Placement+ service. We can ship the lockbox to whomever you designate. If you need assistance, we may be able to coordinate lockbox installation by a handyperson or courier at the owner's expense (typically $50-100).
Are Hemlane Leasing Services available at my location?
Tenant Placement+ is offered nationwide. Our Make Ready coordination service is only offered in large and mid size metropolitan areas where we have a sufficient number of service professionals to ensure that your unit is turned over in a timely manner. If you have questions, you can request a free consultation from our Leasing Services team.
When do you collect the fee for a leasing add-on service?
The fee is charged up front before the service is performed. The leasing services fees are non-recurring. For example, you would pay the Tenant Placement+ fee one time for one vacancy.
Note: if you choose the Leasing+ bundle, we will charge $300 of the fee upfront to cover the cost of our inspection and report. The balance is collected after we have begun coordinating showings for the property.
How do you verify a prospective tenant before the self-guided tour?
We take security very seriously. A prospective tenant must provide a government issued ID and go through our verification process, which uses biometric information to confirm their identity.
Does your digital lockbox need WiFi?
The lockboxes don't need access to the Internet. We can remotely issue temporary access codes that only work at a designated date or time and are note reusable.
What is the cancellation fee for a move-out inspection?
If the inspection is not canceled or rescheduled with at least 24 hours notice, there will be a $150 trip fee assessed. If the inspector is unable to enter the property at the scheduled time because the tenant, owner, owner or owner's agent failed to provide access, then we will assess the $150 trip and reschedule the inspection.
Does someone meet the prospective tenant at the property for showings?
Our Tenant Placement+ service does not host showings in-person. We coordinate self-guided tours for prospective tenants. We are in communication with prospective tenants when they visit the property. If you'd prefer a leasing agent to facilitate in-person showings, please learn about our Agent Connection service, which is an alternative to Tenant Placement+.
Will you coordinate prospective tenant tours before my current tenant moves out?
We do not coordinate showings of occupied units. You would need to coordinate directly with your existing tenant to facilitate any occupied showings. You could transition to using our Tenant Placement+ service once the tenant moves out.
Typically 100% of one months rent
This service includes:
Connection to a local licensed agent in your rental area
Full service assistance
How much does an agent or manager cost?
Every agent has different pricing, based on their brokerages rates, and Hemlane does not set these prices. For full service leasing (finding and placing a tenant), the fee is typically 100% of one month's rent but does vary by agent and city.
Hemlane does not take any cut of what the agent or manager makes for their services. They receive 100% of that commission.
Is there a contract involved with the agent?
Yes, the agent will have you sign their brokerages listing and/or management agreement. This is not a form provided by Hemlane and is typically a standard real estate form.

How does Hemlane qualify agents?
Most agents come through a referral and review network used by Hemlane. Our team has criteria and qualification questions to be listed on the website, but it will be your responsibility to properly vet them for your rental and needs.
Does Hemlane have agents across the nation on the platform?
Hemlane will be able to connect you with an agent in any metropolitan area or town of over 100,000 in population. However, this is dependent on the type of property and exact location.
How do I sign up for Hemlane's leasing services?
Step 1: Go to your Dashboard
Step 2: Click on the "Leasing Support" link under the Marketing & Leasing section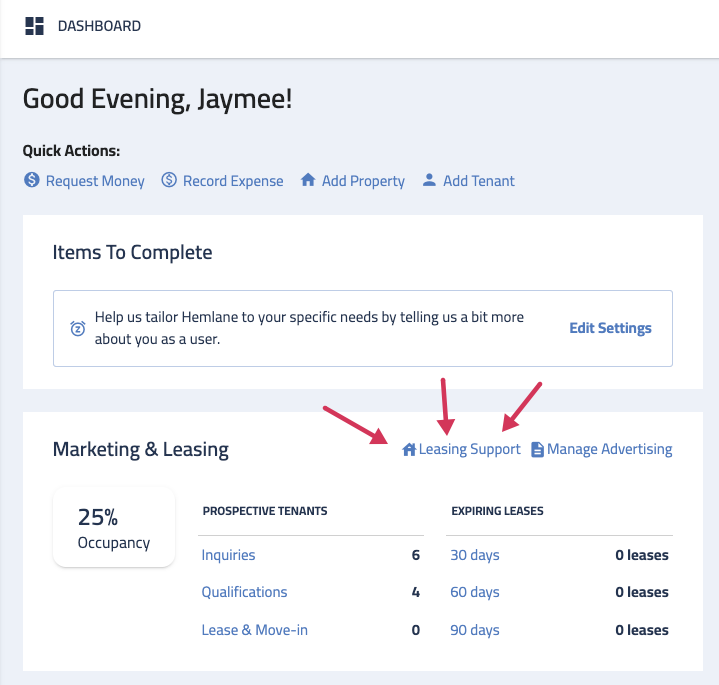 Step 3: Fill out the form and our team will be in touch with the next steps!
keywords: unit turn, leasing help, showings, prospective tenant management, turnover, coordination, agent, screening