To verify your identity for a tenant screening (background and credit), we ask a series of questions. The answers you provide are then added to your contact information to create your individual screening report. 
If your answers do not match what is on file, then you will receive this 200010 error message: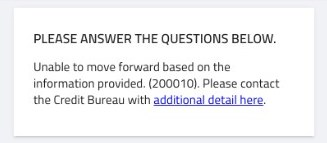 If you receive this error message, then here are the next steps:
Call TransUnion SmartMove customer support at (866) 775-0961
Let them know that you are using Hemlane and provide them with the email address on file with us
When you call, customer support will verify your account information (SSN, DOB, address, etc.)
You will receive 2 additional attempts via phone to verify your identity. 
keywords: screening, error, error screening, 20010, TransUnion, SmartMove, call