What does the local agent / manager offer that Hemlane does not?

Hemlane provides you with all of the tools and automation to manage your rental properties. We also provide
a 24/7 maintenance coordination team
for
in tenancy
repairs and an entire leasing team to assist with all of your rental turnover needs. You can learn more about our
Leasing Services offered here.
In some cases, you may want boots on the ground from a local, licensed professional. In these cases, Hemlane can connect you with a local expert to support you with services such as annual inspections.
To quickly navigate to specific sections of the article, please click the links below:
What highly valued services do agents offer?
Licensed agents understand rental properties and bring local expertise to the process. The most requested service is a bundled package for leasing (finding and placing a tenant into a rental.) This includes everything from coordinating the turnover to showing the rental property. Many agents also offer annual inspections and other support when you need it.
What about services that are not full leasing? Some agents will not provide a la carte services. Very often it is because the amount of work required for the ad hoc request is not viable for the agent's business model. We encourage our clients to fairly compensate agents to ensure a positive business relationship on both sides.
Do agents support room rentals? Most agents will not support room rentals (for example, roommates, co-living or student housing). There are many reasons for this and there are agencies that specialize in these markets that you can work with as an alternative.
What if my rental is less than $1,000? Most agents will not support rentals that are less than $1,000. If your rental is less than this, we recommend you contact our team first to see if your property qualifies.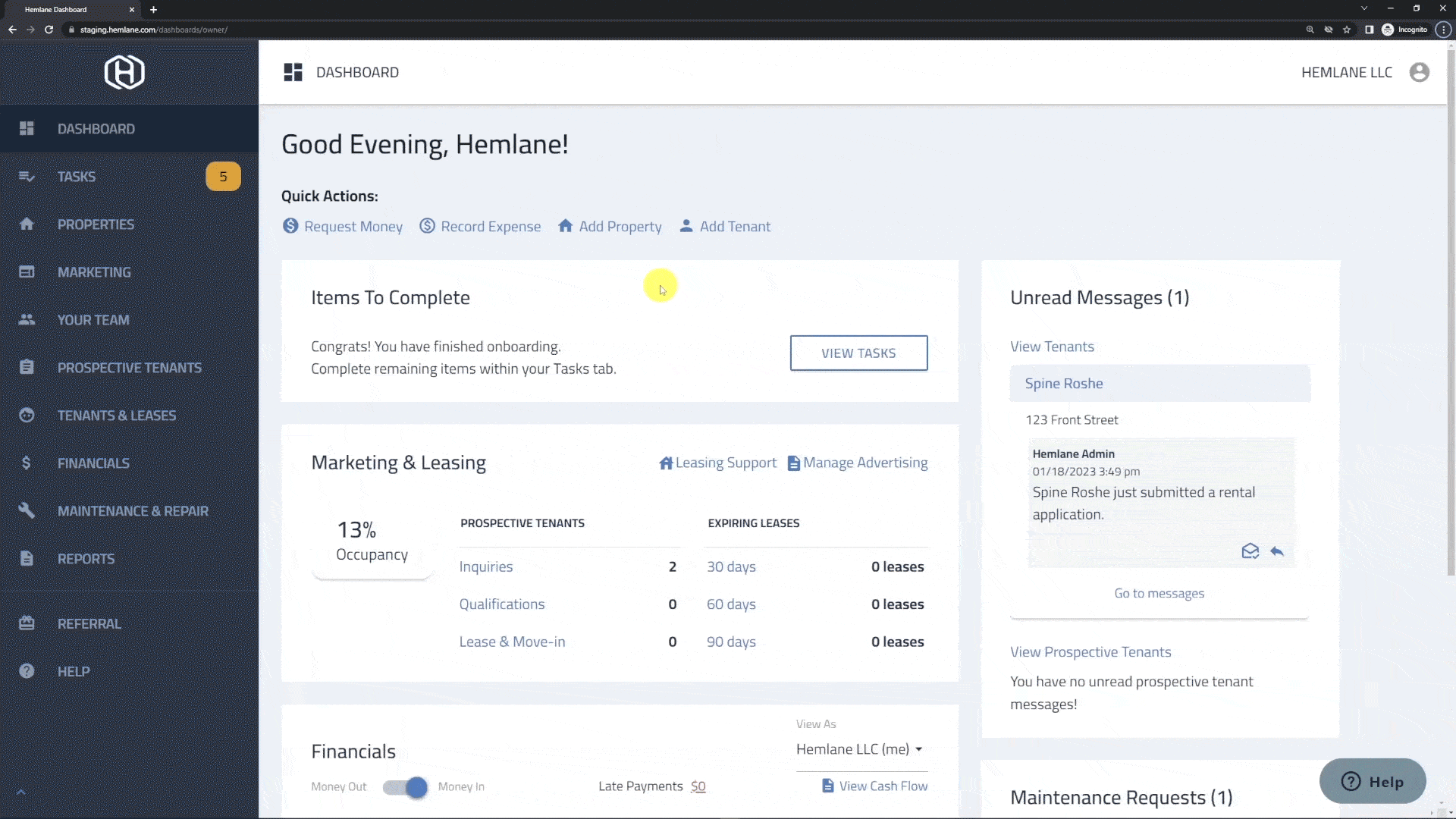 How does the process work to connect with a local agent or manager?
The matching process typically takes a week. Here is how it works:
Click [Request Agent] under the Your Team section on the dashboard.

Complete the requested information to help us match you with an agent who meets your criteria.
A representative will reach out to set up interviews with a couple of local agents.
Meet with local agents and select the one who you'd like to support you and your rental.

When should I consider connecting with an agent on Hemlane?
You should connect with an agent around 15 days from when you will need their support. It typically takes one week to connect and select an agent.
Here are reasons to connect with agents:
You have little experience with rentals and need a professional to make sure you select the right tenant (the most costly expense is a bad tenant).
You can't dedicate time to find a tenant or manage your rental.
You do not live close to your rental property.
You want your rental listed in the MLS, which syndicates your advertisement to even more listing websites.
How much does an agent or manager cost?

Every agent has different pricing, based on their brokerages rates, and Hemlane does not set these prices. For full service leasing (finding and placing a tenant), the fee is typically 100% of one month's rent but does vary by agent and city.
Hemlane does not take any cut of what the agent or manager makes for their services. They receive 100% of that commission.
How do I pay the agent or manager for their services?
In most cases, the agent or manager will request money online through the financials tab. However, if the agent's brokerage does not accept online payments, then you may need to mail a check and go through their bill pay service.

What if I want a rematch?
Our team is here to support you and will help match you to another agent if your first agent is not the right fit for you. There is no fee for matching or re-matching with agents.

Is there a contract involved with the agent?
Yes, the agent will have you sign their brokerages listing and/or management agreement. This is not a form provided by Hemlane and is typically a standard real estate form.


How does Hemlane qualify agents?
Most agents come through a referral and review network used by Hemlane. Our team has criteria and qualification questions to be listed on the website, but it will be your responsibility to properly vet them for your rental and needs.
Does Hemlane have agents across the nation on the platform?
Hemlane will be able to connect you with an agent in any metropolitan area or town of over 100,000 in population. However, this is dependent on the type of property and exact location.
Please reach out to agentpartnerships@hemlane.com if you have questions as we'd be happy to assist you!