On the Complete package, Hemlane provides accounting services to manage and initiate payments to service professionals via credit card or PayPal. This service is called Repair Billing.
Repair Billing is required on the Complete package and offers a more convenient and hands off approach to coordinating tenant repair requests.
To quickly navigate to specific sections of the article, please click below:
What does Repair Billing include?
sourcing new service professionals
following your thresholds for payments
invoice upload and management
secure payments (your bank account/card information is never shared)
recording payments on your financials tab
Is there a fee associated with it?
There is no fee for this service if you are paying with a bank account. There is a 3% fee, however, if you have selected a debit or credit card for your Repair Billing account. This is simply because we must pay a fee when processing payments using this method. Please note that some Service Professionals may charge a fee to accept a credit card as payment of their invoice. Their fee is completely independent of our fee.
Interested in figuring out whether you have a debit card, credit card or bank account on file for repair coordination requests? Visit the Maintenance & Repair Instructions tab and look at the Billing Contact.
How does Repair Billing work?
Here is a step-by-step process:
The coordinator receives an estimate on the work to be performed.
The coordinator confirms the amount is both reasonable and below threshold.
The coordinator creates a one-time use credit card or PayPal, up to this approved estimate, which links back to your account. This is a safe and secure way to make sure your credit card and/or bank account are not compromised.
The service pro is required to call the coordinator for any additional approval.
The coordinator works through all invoicing, payment, and accounting in Hemlane.
Throughout the process, the owner and/or manager receives updates on the estimates and invoices to provide transparency with a more hands-off experience.
How do I connect a team member and payment account to Repair Billing?
Step 1: Select the Maintenance & Repair tab on the left hand main menu
Step 2: Choose the "Instructions" section at the top of the page
Step 3: Filter for the property address at the top of the page
Step 4: Click anywhere on this main property box to open up the detailed page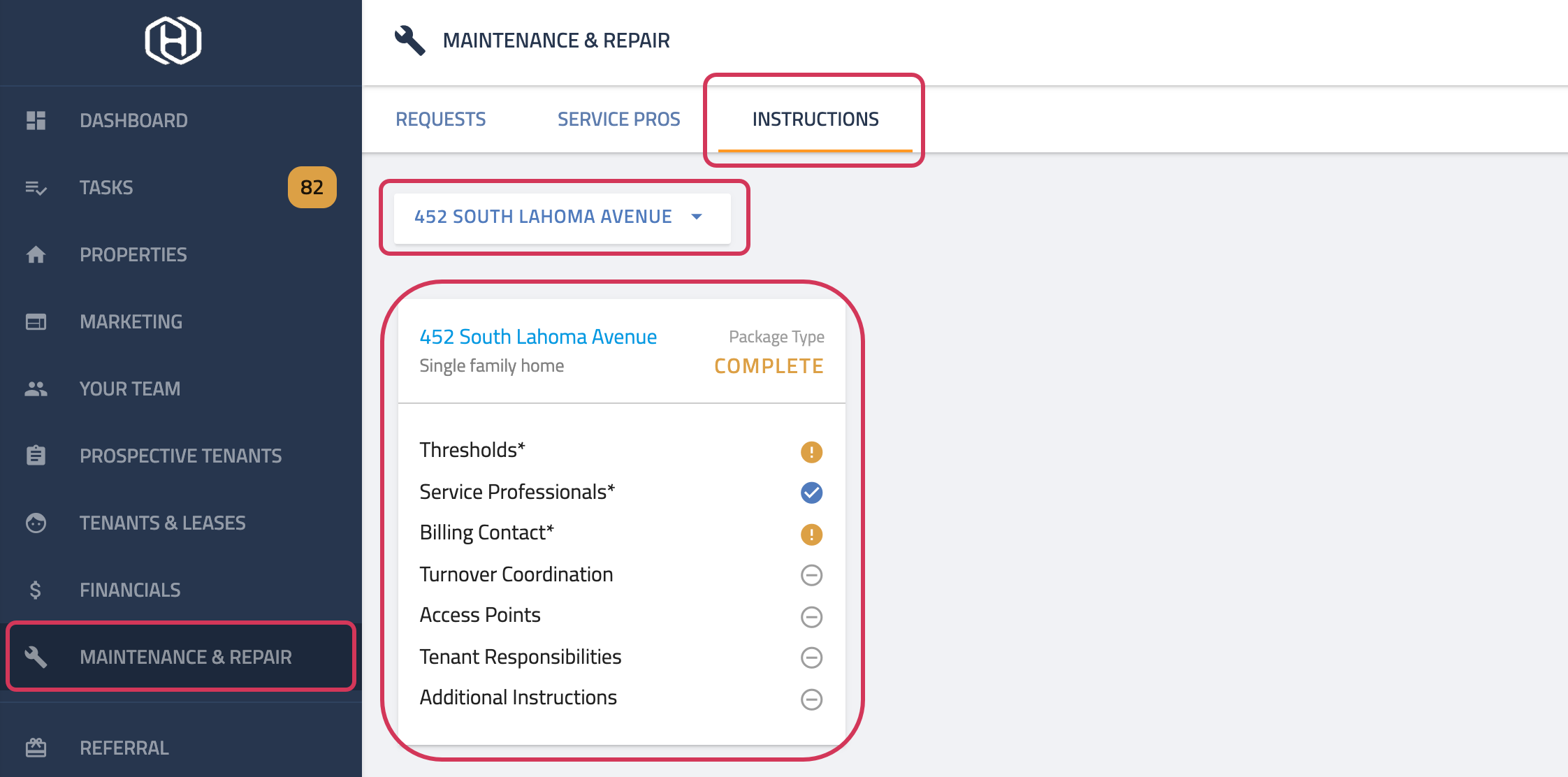 Step 5: Select the "Billing Contact" subcategory and choose a team member from the "Assign Billing Contact" drop down menu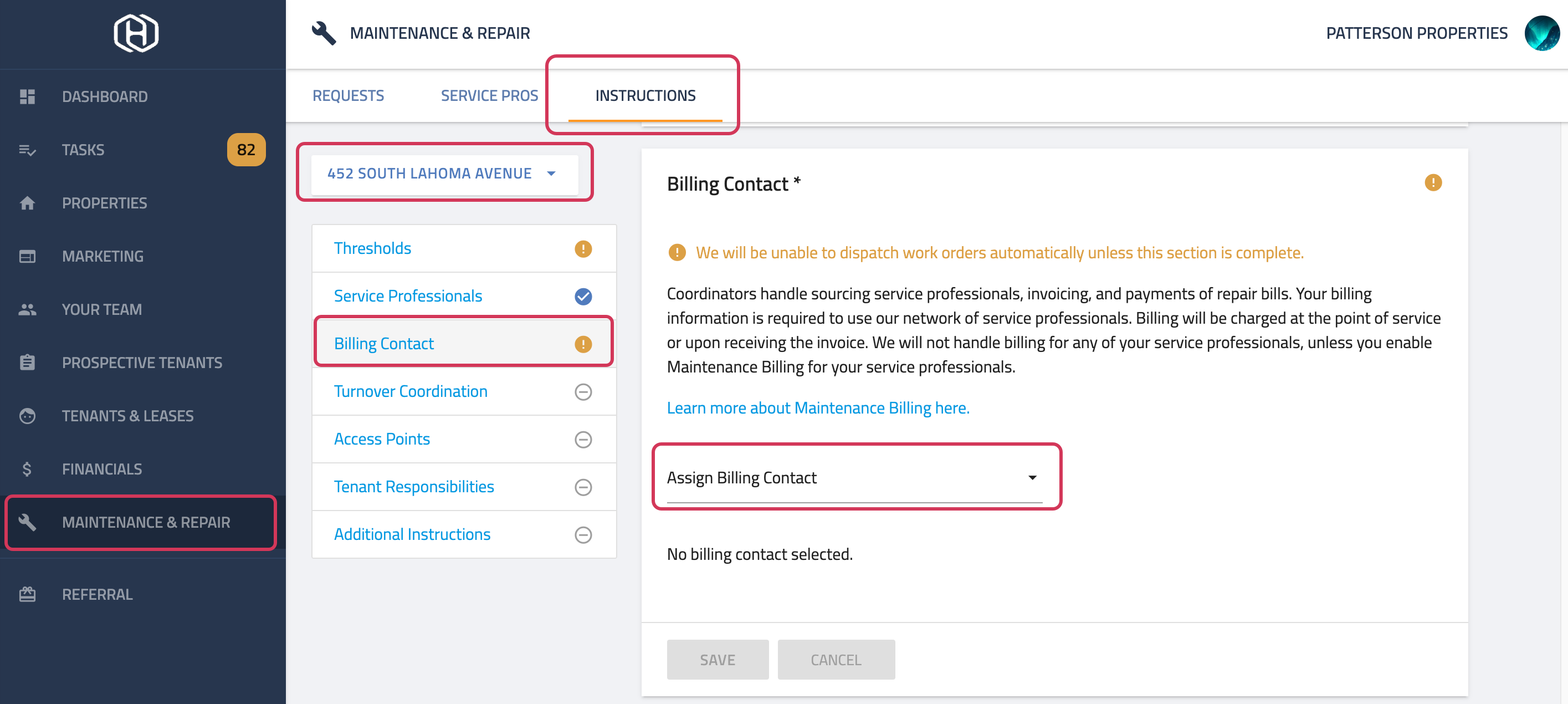 Step 6: If you have assigned yourself as the Billing Contact you can then choose your payment account by clicking "Select a Payment Account" and choosing one from the drop down menu.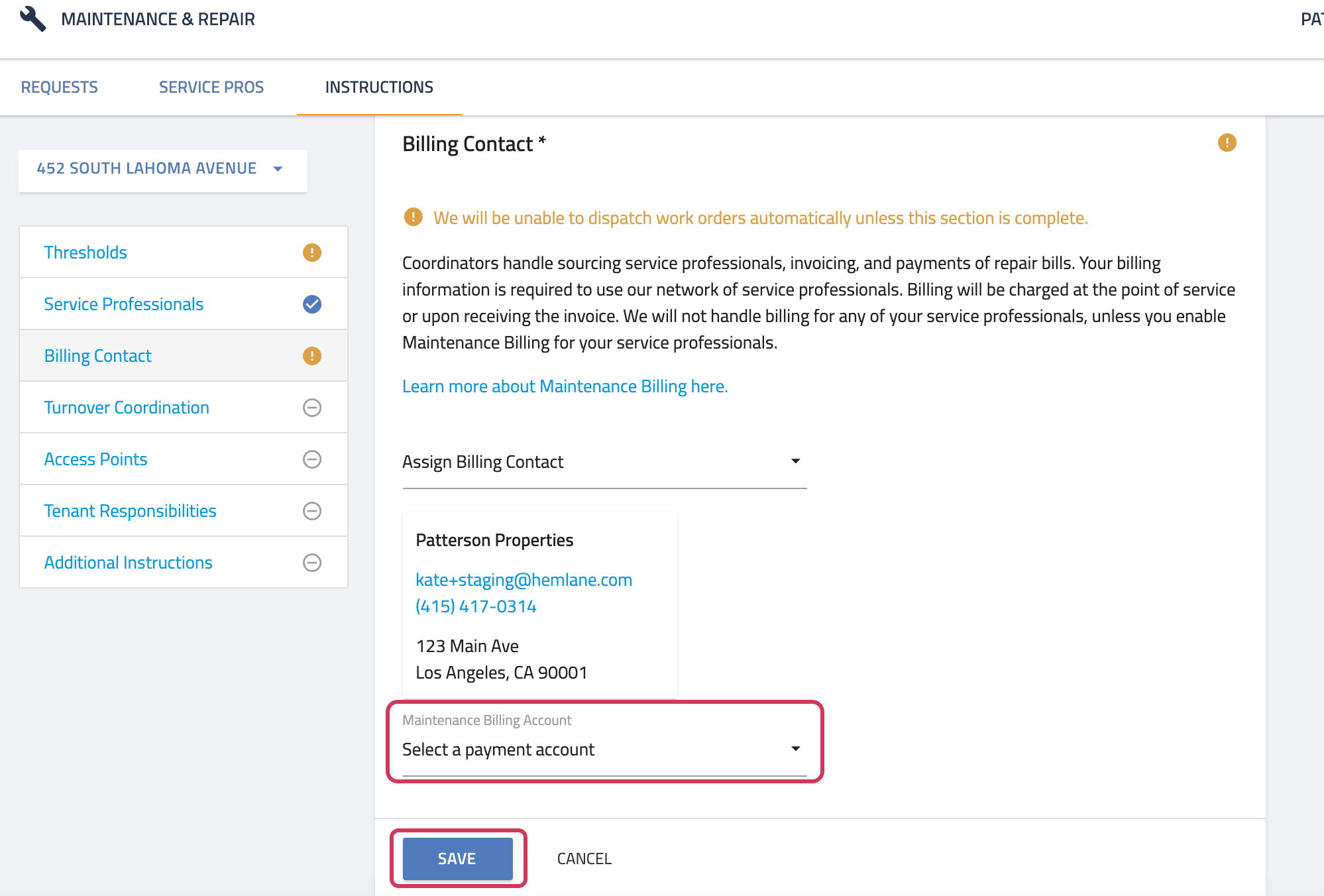 If you are selecting a Team Member as the Billing Contact, keep in mind they will need to confirm the Maintenance bill-to payment account within their Hemlane account in order for this process to be completed.
Why do I have to opt into Repair Billing to use your Third Party Network?
We received many requests from our Third Party Network for Hemlane to manage payments. They felt too many people were involved (the coordinator, owners, managers, and tenants) and were more comfortable knowing Hemlane's coordinator would be managing the entire process, including the payment. Furthermore, many service professionals now require a credit card on file prior to even scheduling with the tenant.
What is included in the Essentials package alone?
We will handle phone calls and online maintenance requests from your tenants, including after hour emergencies.
We will troubleshoot with the tenant to avoid unnecessary charges to dispatch a service professional.
If unable to resolve, we will dispatch your preferred service professional.
We will take calls for approvals while Service Professionals are onsite. If a threshold has been set, we will auto approve up to your threshold. If it is over your threshold or one has not been set, we will call you for approval.
We will follow up with the tenant to confirm the job was successfully completed
How do I select my preferred service professionals?
To add a Service Professional:
Step 1: Select Maintenance & Repair on the left hand main menu
Step 2: Click 'Service Pros' at the top of the page
Step 3: Select [+ Service Pro]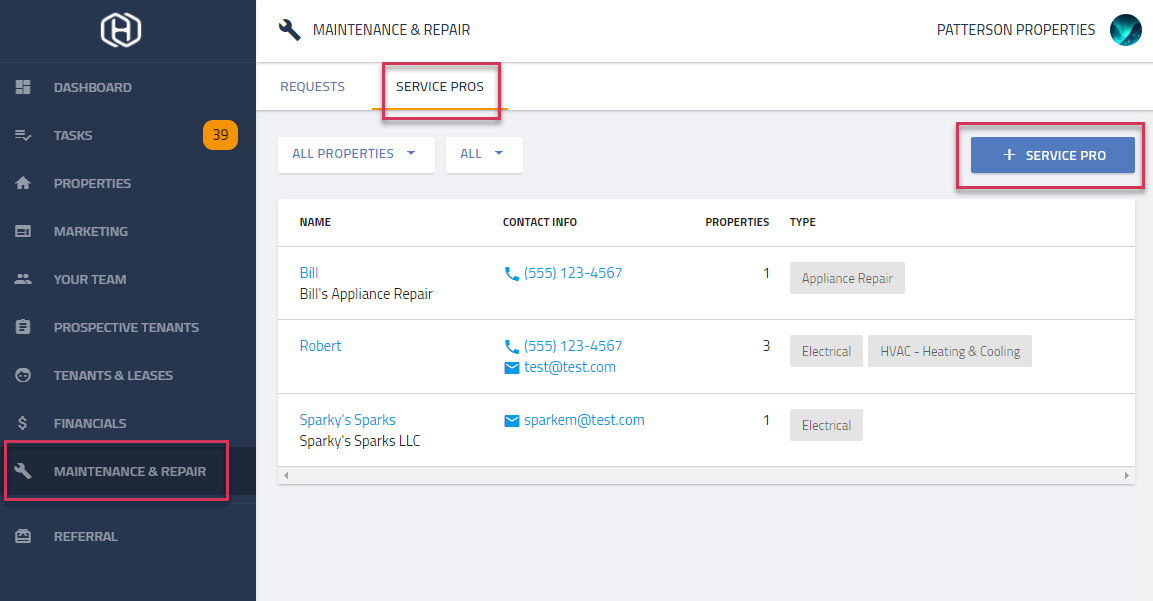 Step 4: Complete the following forms including:
General information

Name & Company
Address
Email & Phone
Service Categories
Notes



Pricing Details & Credentials

Minimum fee
Credentials and hours



Properties

Choose which properties this service provider will be attached to
Please note: Inputs with an asterisk (*) are required, 2 asterisks (**) denotes a required email or phone number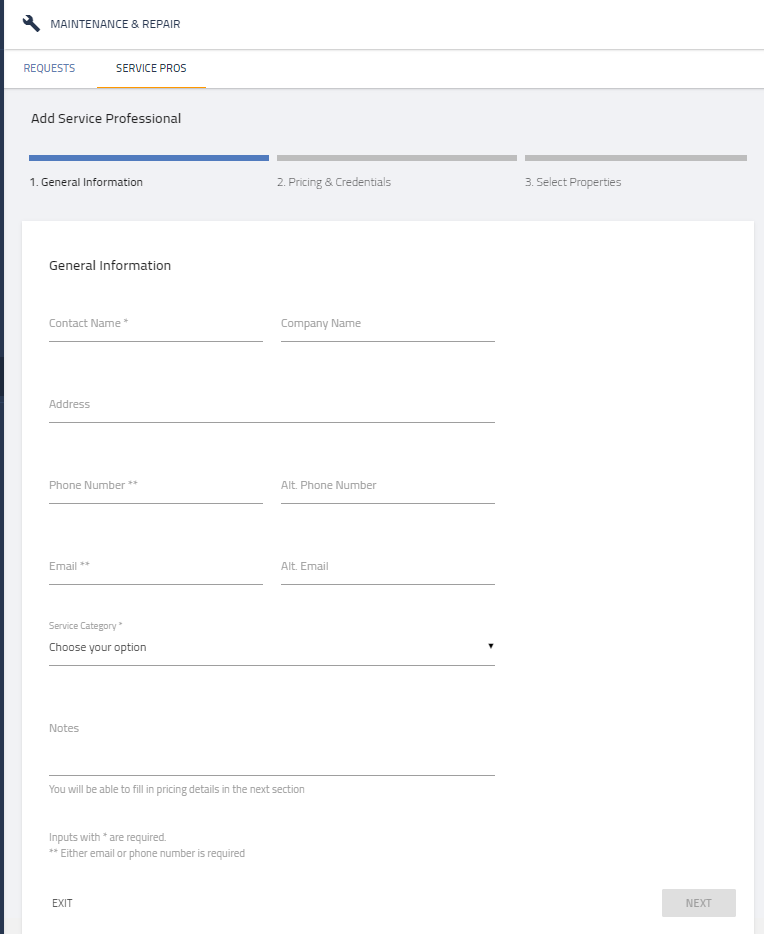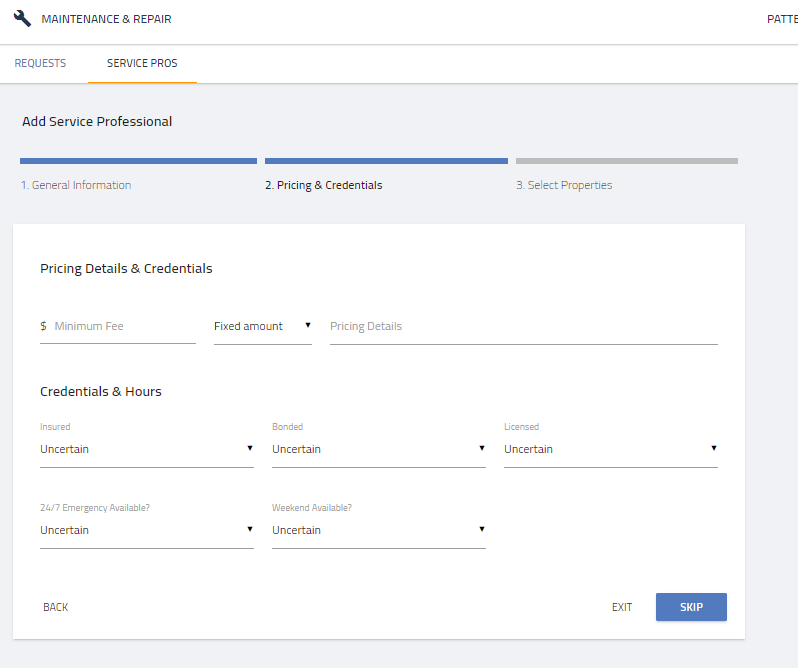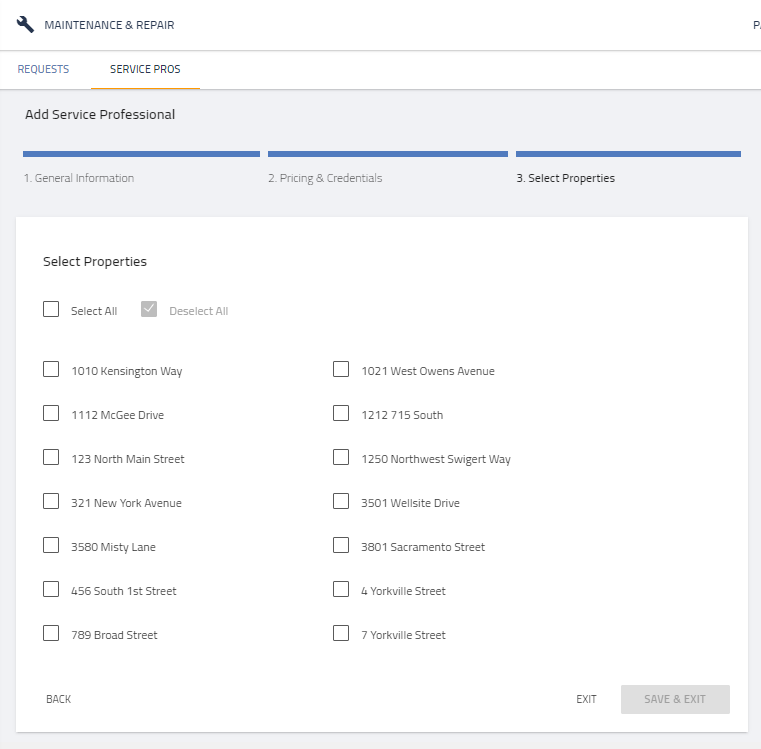 What are the benefits of Repair Billing?
Your interests are always aligned with our interests, and here are the reasons why our customers asked for Repair Billing:
Faster assignment of service professionals -- Most plumbers, electricians, and other service pros want a credit card on file prior to scheduling work. As an owner or manager, it can be disruptive to receive a call for authorization. Since you have already provided maintenance thresholds, it is faster for Hemlane's team to authorize during scheduling.
Security around all payments -- Our team never provides your bank account or credit card information to service professionals. We use one-time use credit cards with limits. This process makes sure your information is protected!
Eliminating snail mail -- Checks can get lost in the mail or provide hesitation from a service pro on when they will receive it. You can count on Hemlane's team to help make sure the service pro receives payment in a timely manner.
Providing a more hands-off experience -- By not requiring you to directly interact with the service pros on administrative items, you can become much more passive with your real estate. This allows you to focus on more important things, such as purchasing your next rental.
Better accounting -- For tax season, your accountant will love you when you have all invoices and maintenance payments recorded in Hemlane.


Does Hemlane provide my credit card number to service professionals?
Hemlane uses a credit card to pay service professionals, but it is not your credit card. Since most credit card authorization is done over the phone (not a secure online system), there is too much security risk associated with holding and providing your credit card details to third parties. The only way for us to guarantee your credit card details are not compromised is to provide a one-time use credit card to service pros. This one-time use card links to your bank account or credit card.
Are there any limitations or exclusions to payments?
Repair Billing only works with service professionals who accept credit cards or PayPal for payment. If your service professional does not accept credit cards or PayPal, then you will need to find some other way to make the payment. We also only make payments up to $2,000. If the invoice will exceed $2,000, this is considered a large repair and must be paid directly to the service professional by the owner or manager.
How can you make sure I'm not overcharged?
The repair coordinator will review prices and estimates to make sure they are within reason. We can also provide a second estimate in certain situations, and you can read more here.
payments, service pros, vendors, invoices,