The tenant screening charge is $40* for a comprehensive background and credit check. This amount is paid by the prospective tenant and is non-refundable. The tenant receives a copy of his/her report.
*Please note: The Credit Bureau and the state of New York have worked together to create a $20 maximum fee for tenant screenings in New York. Hemlane will update the fee automatically for New York applicants.
The TransUnion screening report in built into Hemlane and includes 4 sections:
(1) Credit Report
Comprehensive credit report and ResidentScore, with the following benefits:
Soft pull on credit - will not affect the tenant's credit score
Easy-to-read format
(2) Eviction Report*
Effective September 7th, 2023 TransUnion will now only include eviction cases which resulted in a final action against the applicant.

What this means is, Civil New Filings (and other initial filing types) will no longer be returned on the report.
The report includes:
Tenant judgment for possession and money
Unlawful detainers
Tenant judgments for rent
Failure to pay rent
Writs and warrants of eviction
*New York does not return eviction records for applicants applying to a property in New York state.

(3) Criminal Report**
Effective September 9th, 2023, TransUnion is offering Criminal Report Data for the following states, and is actively working on re-adding this Criminal Report Data to their background screenings in states not included in the list below.
California
Colorado
District of Columbia
Georgia
Kansas
Kentucky
Louisiana
Michigan
Nevada
New York
Oklahoma
Virginia
Wisconsin

National Sex Offender Public Registry Searches will NOT be impacted and is available in all states.
(4) Income Insights***
The Income Insights report can help you determine when to request proof of income. Income Insights cannot solely be used to deny an applicant.
***Due to regulations, this report is not shared with applicants.
Does a tenant need a SSN to pull this report?
A U.S. SSN is required to use pull the screening report - credit and criminal record check.
Note: A lot of public records don't contain a SSN, and therefore we use other identifiers to match them up the person: first name, last name, middle name, known aliases, DOB, driver's license number, address on file, and any other available info. We are able to look back to as many as 20 previous addresses.
What is the ResidentScore and is it the same as a credit score?
ResidentScore is a scoring model designed specifically for tenant screening. Credit scores are used to predict the outcome of a loan, not rental performance. There are hundreds of different scoring models for different industries. If you were to apply for a mortgage, your score will most certainly be different than what you might see on a site like CreditKarma, or if you were to apply for an auto loan.
Based on a sophisticated analysis of more than 500,000 actual resident records, here is a general recommendation from the scores: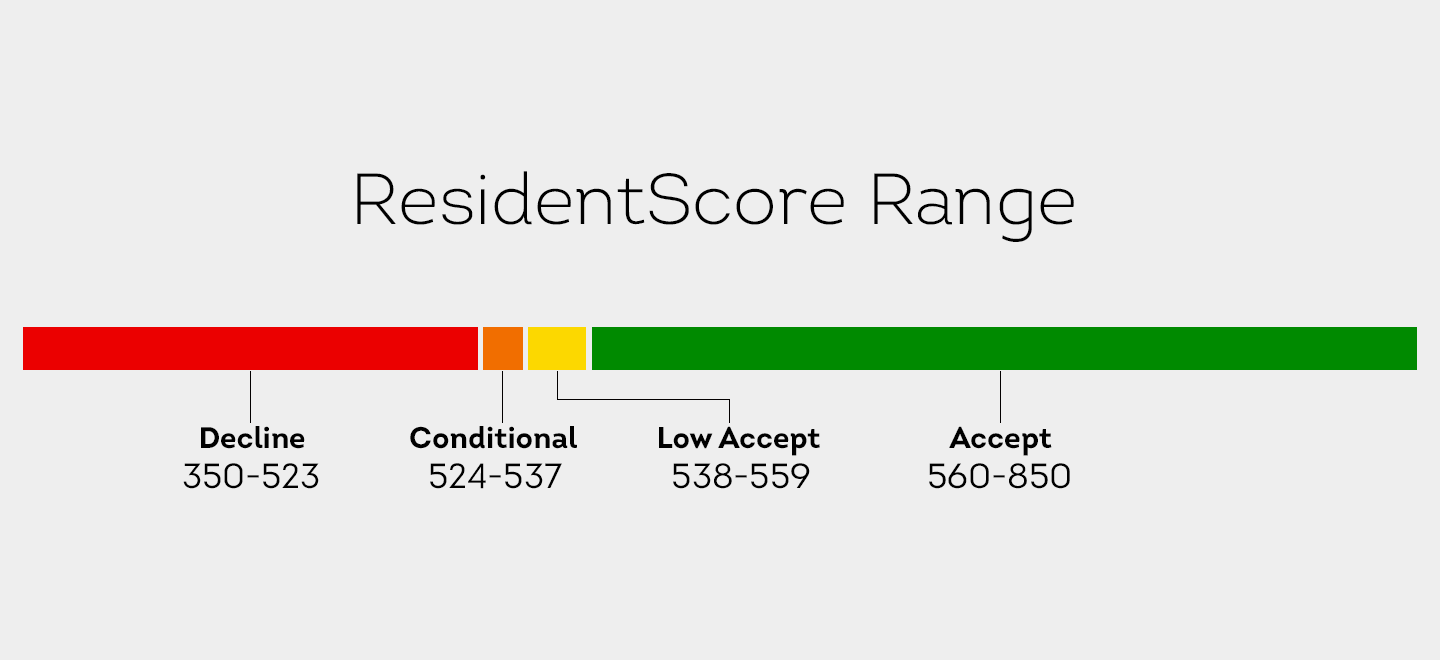 ResidentScore is on the same scale as FICO (350-850), but it weighs things differently (specific for tenants). You can view an example below.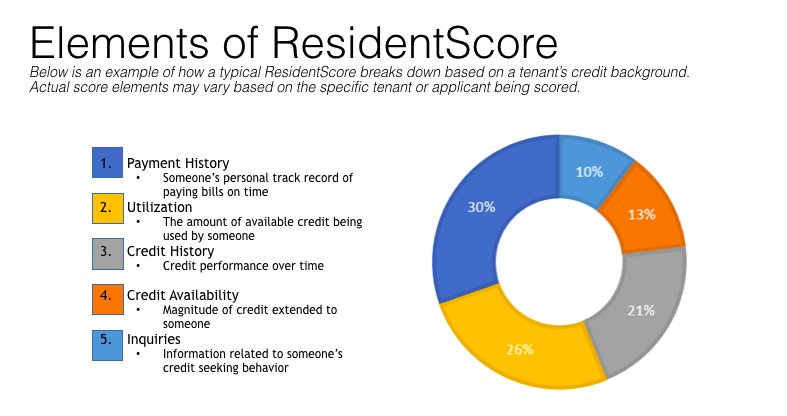 How does the Hemlane "Income and Credit Recommendation" work?
Using big data and risk analysis, Hemlane provides a recommendation on whether management should accept or decline an applicant. This recommendation includes the ResidentScore but also factors in the criteria from the application itself.
While we are using data and reporting to understand risk, this recommendation is inevitably based on your objective criteria (not our own). We are using your credit score and income requirements directly into the recommendation.
For more details on our recommendation please see our support article, How is the applicant recommendation calculated?
Below is an example of the summary within Hemlane: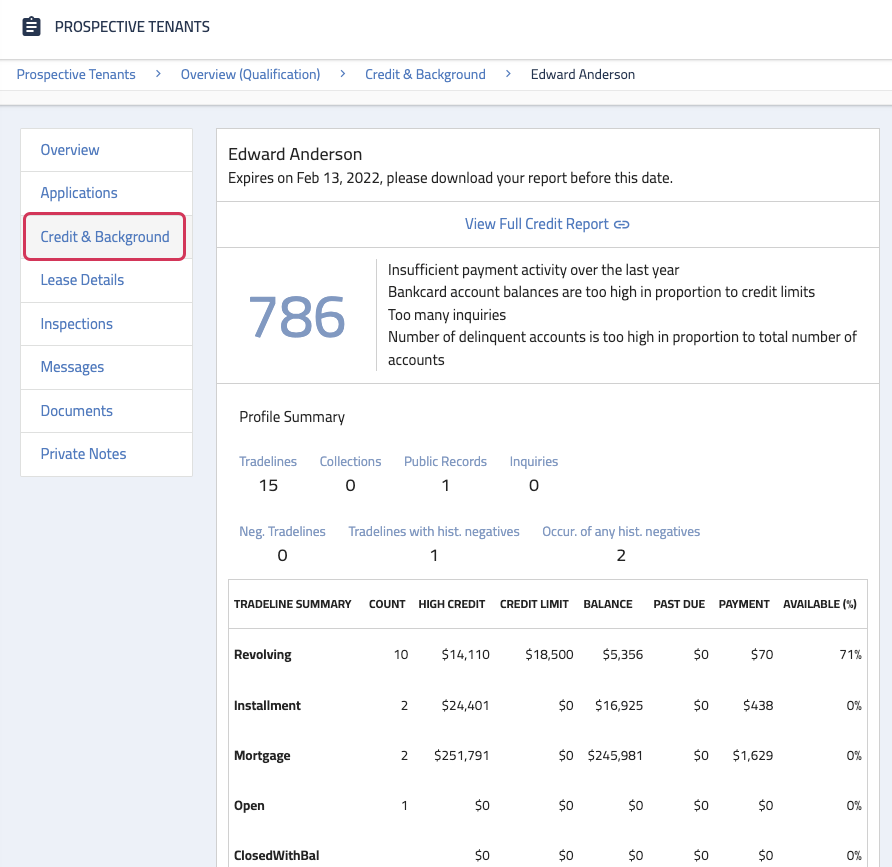 Below are report details when you click on the three links (Credit, Eviction, Criminal, and Income Insights):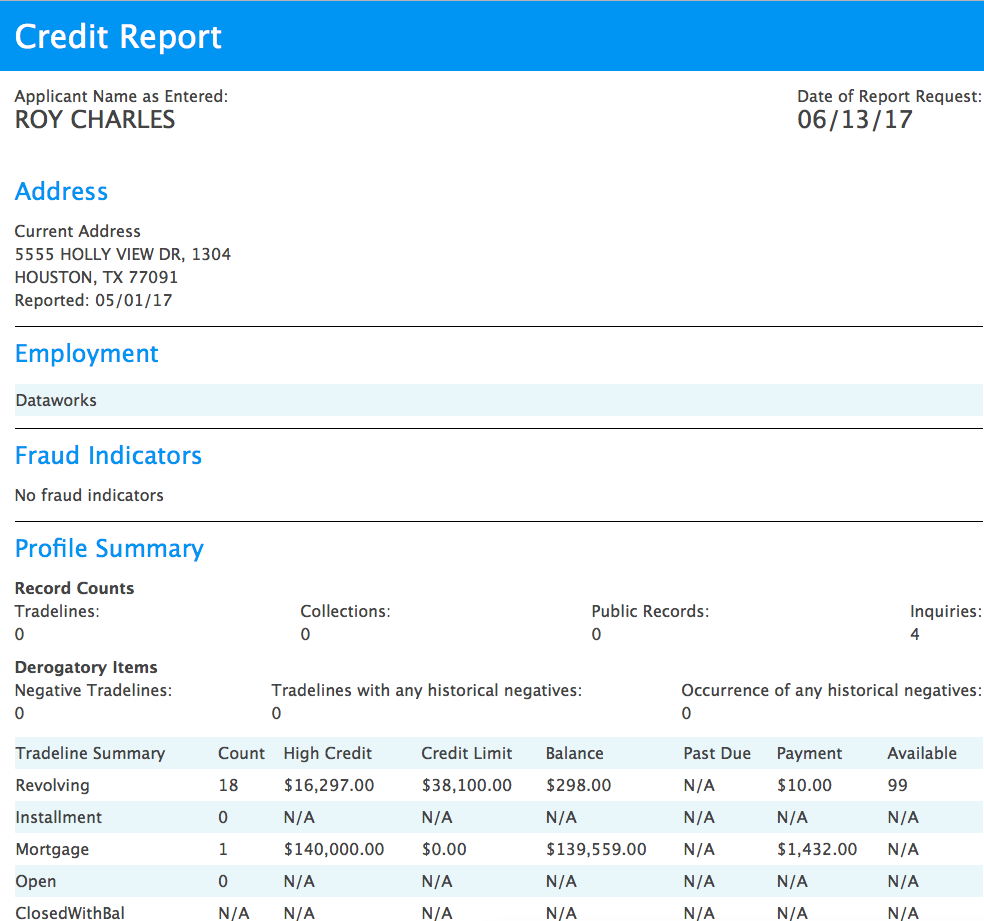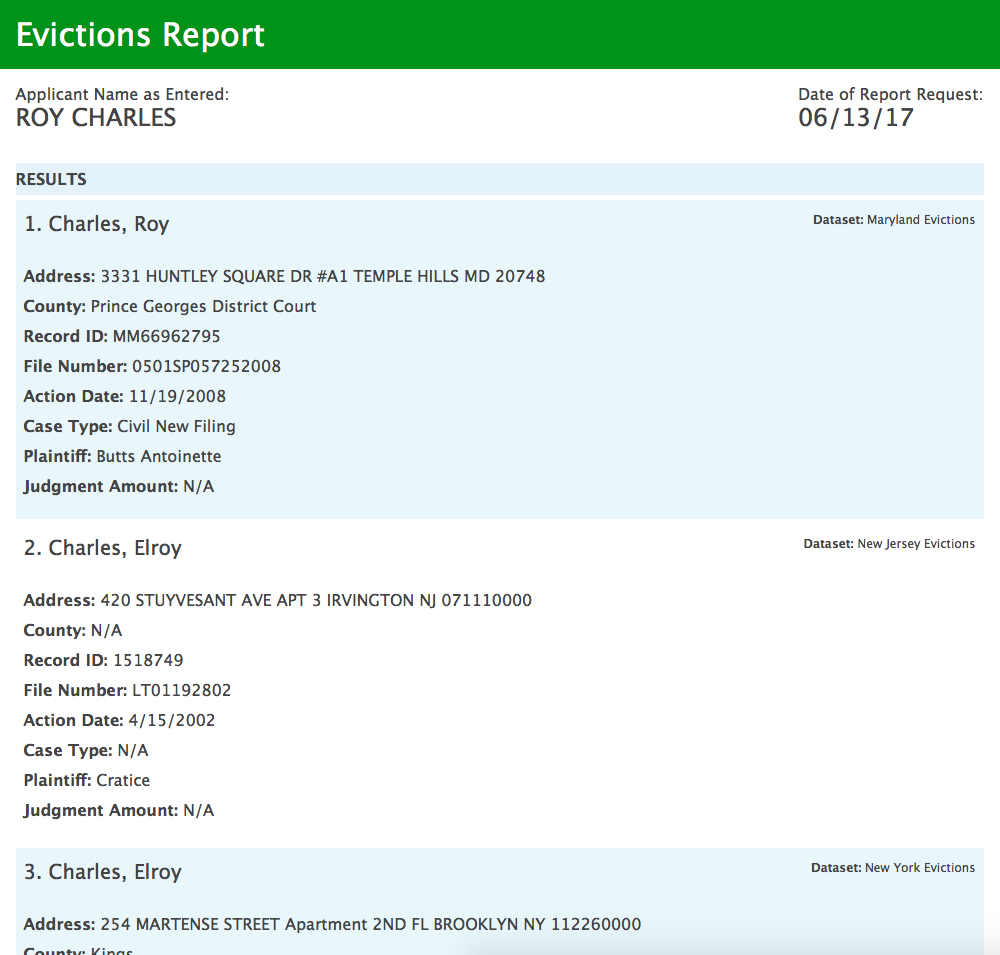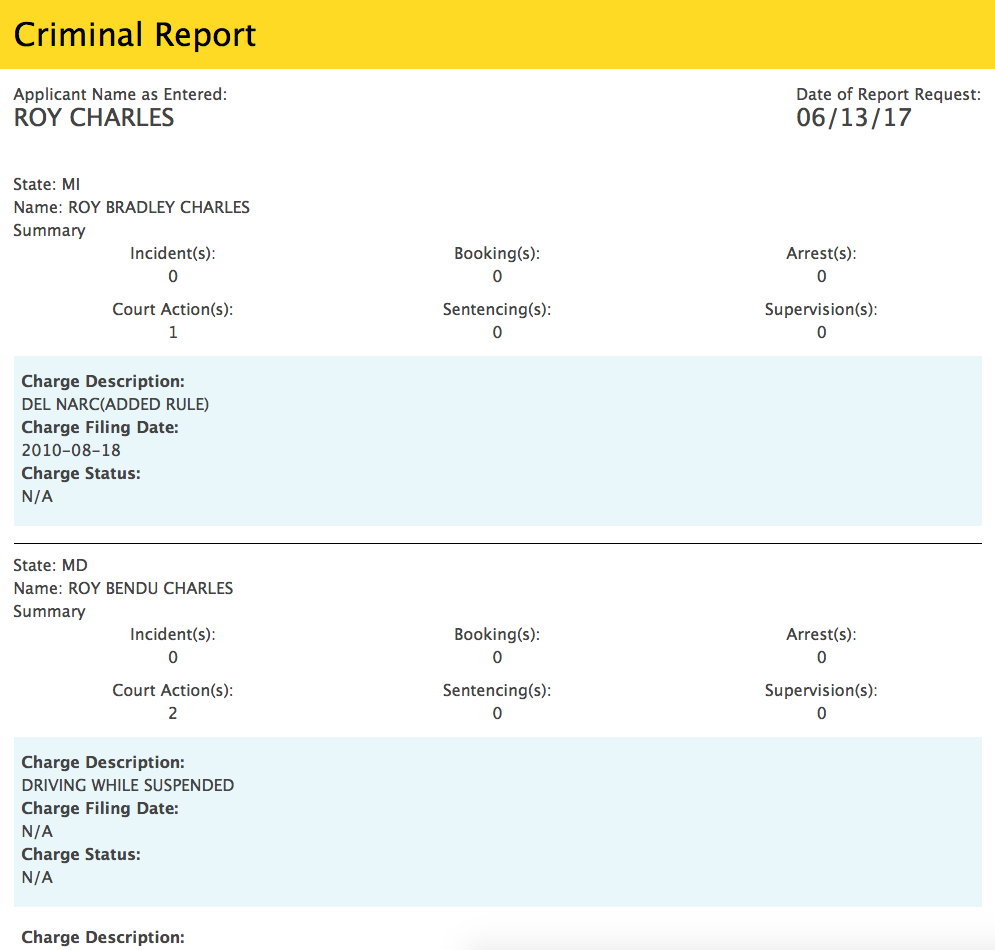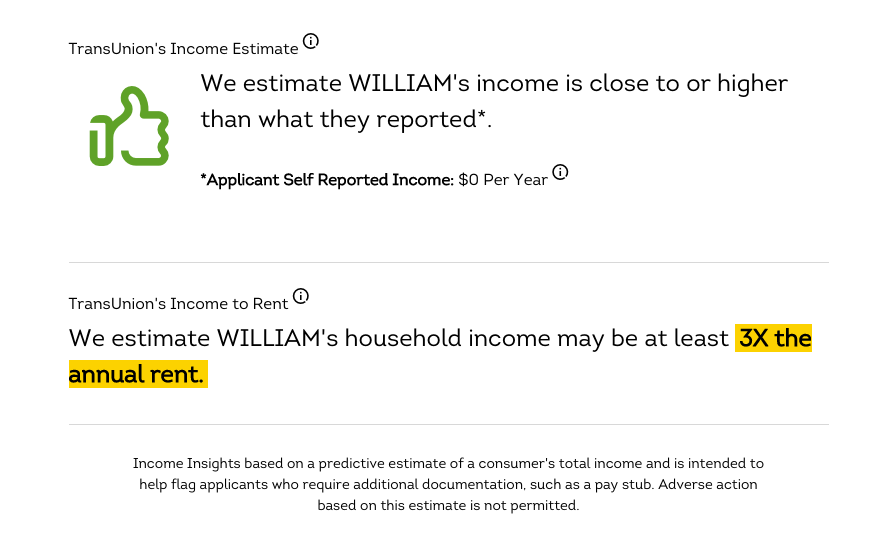 Keywords: Background check, background report, tenant screening, renter screening, credit score, credit report