Home warranty companies can be great for rental properties, but they can also lead to frustration. Make sure to read the fine print in your home warranty policy to understand what is and what is not covered. Also, the cheaper home warranty companies tend to have substandard service professionals and therefore we recommend selecting one of the more reputable companies in your area.
The good news is that our repair coordinators work with all home warranty companies (unless it's an after hours emergency), with the following guidelines:
Requirements to submit a request: You must add your Home Warranty company as a Service Professional. Under Maintenance and Repair, click "Service Pros" and add the name and phone number for your home warranty company. Then click on "Instructions" and under the "Additional instructions" add their (1) Policy Holder information (2) Contract/Policy number (3) Dates for the policy (4) Phone number. It is also a good idea for the Policy Holder to call and let their Home Warranty company know that Hemlane is authorized to submit, revise and follow up on claims for their account.
Handling of emergencies and urgent requests: In MOST cases, a home warranty will not follow through with the required turnaround time for emergency situations. We have seen too many cases where they say "we will call you back in 2 hours with a service professional" and the 2 hours becomes 2 days as once assigned, the vendor has 48 hours to contact the tenant to schedule . Tenants can get very upset about this type of situation. The maintenance coordinators may possibly go outside of your home warranty company. Based on the situation, they use their best discretion to preserve the safety of residents and prevent damage to your home.

Billing and payment process:

Essential Package

:

We highly recommend that your credit card is on file with the home warranty company and you provide authorization to have it charged for every service call. Unfortunately, not all Home Warranty Companies will keep your card on file and some require payment before a claim can be submitted. In this case either the Owner/Management or the tenant will need to submit the claim with the warranty company.
If you want Hemlane to pay rather than leaving a card on file, then you must upgrade to the Complete package

.

Complete Package

:

Hemlane will pay the Service Call Fee using a one-time use credit card and charge it back to the account you selected for Maintenance Billing.
Once the home warranty has assigned a service professional (vendor to them), we lose a huge amount of visibility. Once the warranty confirms that they've assigned a vendor, we will notify the tenant with the vendor's name and contact number (if provided) for them to schedule and follow up with the tenant through completion. Please keep in mind that the Policy Holder may still need to be involved if the Home Warranty Company sends notifications to them instead of Hemlane or if additional authorization or payment is needed.
How do I add in my Home Warranty information?
Please follow the steps below to add in your Home Warranty details
Step 1: Select "Maintenance & Repair" on the left hand main menu
Step 2: Click the "Instructions" tab and select which property you would like to update.


Step 3: Scroll down the menu and select "Additional instructions" on the left menu.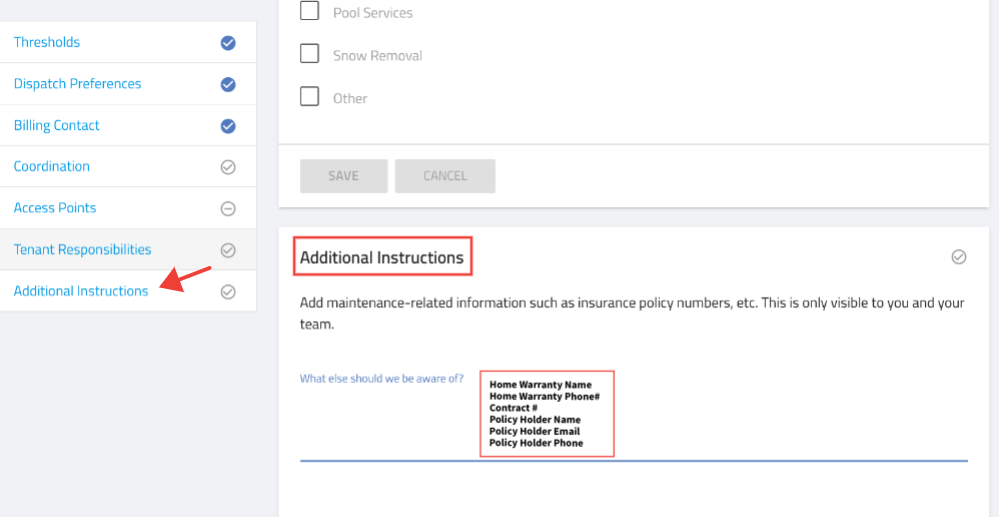 Step 4: Enter the following information
Home Warranty Name
Home Warranty Phone #
Contract/Policy #
Policy Holder Name
Policy Holder Email
Policy Holder Phone #
* Web Login info if applicable (optional)
Step 5: Add your Home Warranty Company in as a Service Professional and check all categories. For more information on how to add a Service Professional, click here.
Keywords: home warranty, warranty plan, insurance plan, service plan, coverage, home coverage