Hemlane allows property managers to request a screening (background) request on their applicants. When you receive a screening request, you will be required to fill out the identifying questions and pay for the screening. When a screening is requested of you, you will receive both a notification via email as well as a notification on your Dashboard tab as soon as you login to Hemlane. Below you will find information on the screening report and how to submit it in your account.
Please note that an SSN is required to pull the screening report which includes a credit, eviction, and criminal record check.
To quickly navigate to specific sections of the article, please click the links below:
How do I submit and pay for my tenant screening?
Once a screening has been requested you will receive an email and in portal notification on the Dashboard tab in your Hemlane account. To complete the screening please follow these steps:
Step 1: Select the Dashboard tab and either click the "Incomplete" link under the screening column, or click [Complete] under the Screening task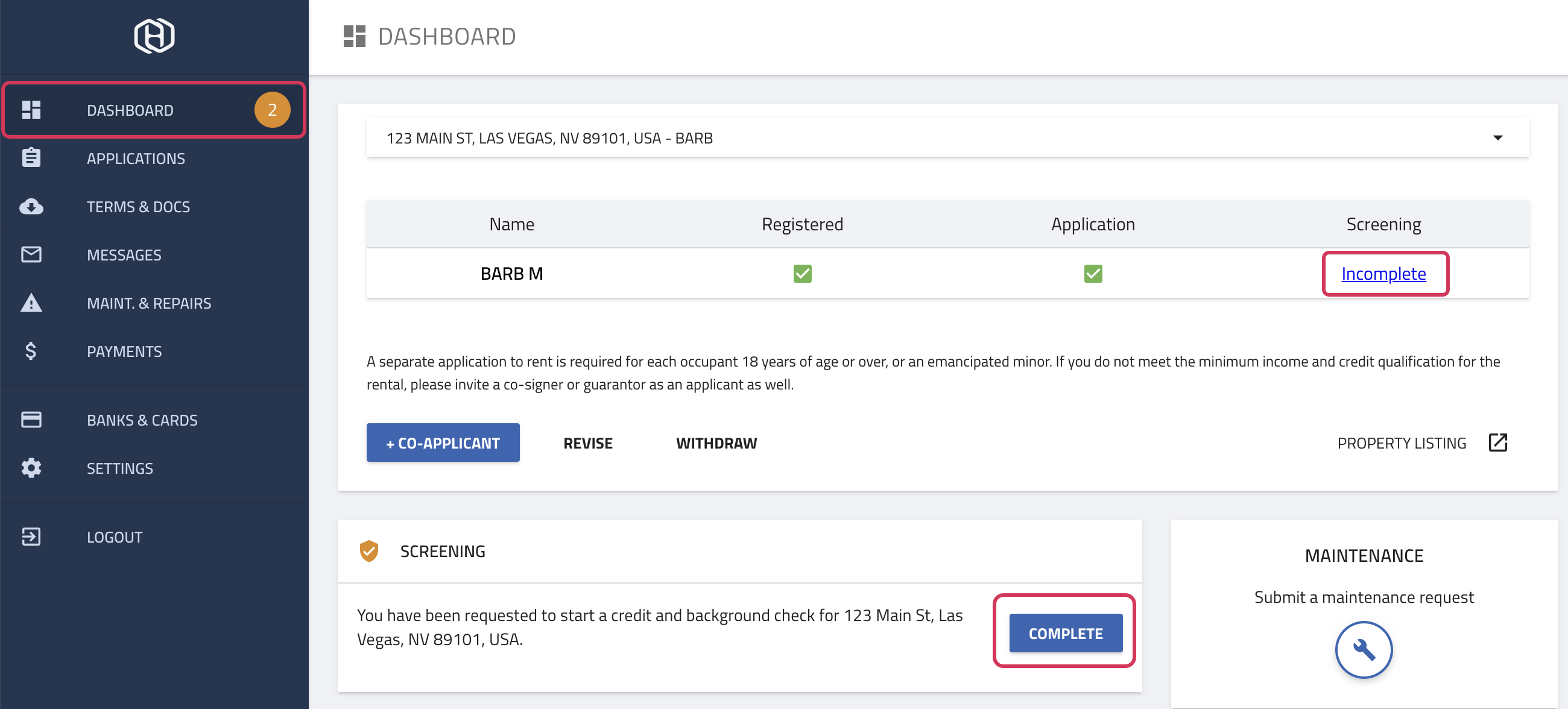 Step 2: Select [Finish] to submit your screening information

Step 3: Fill in your date of birth, social security number, and address. Be sure to check the box "I accept the terms of the FCRA" and select [Submit]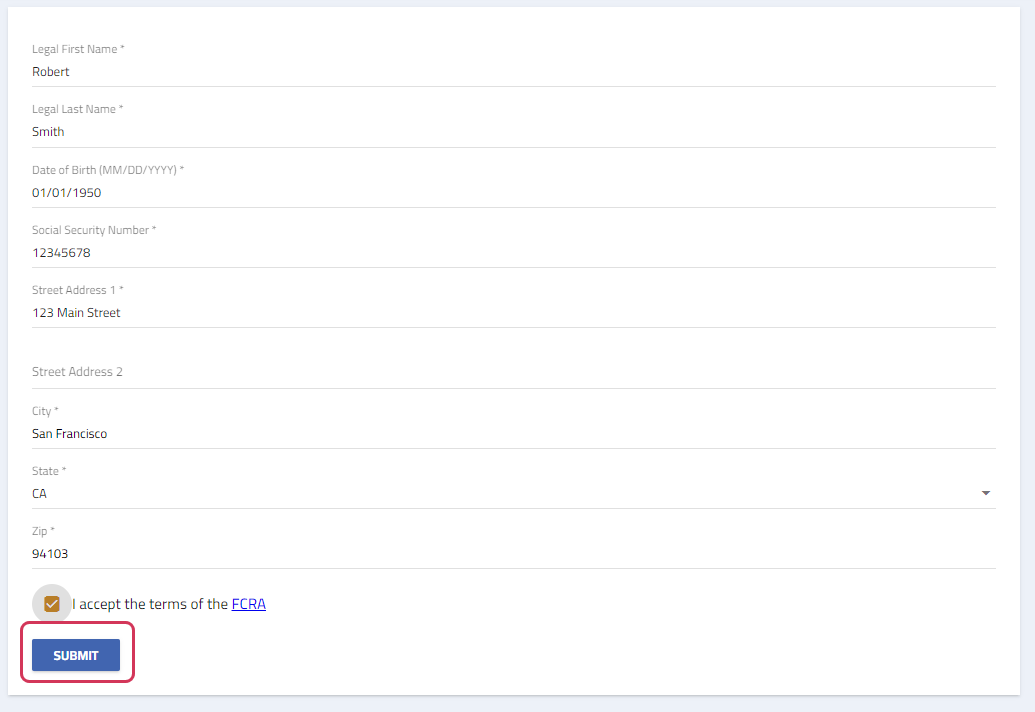 Step 4: Answer the series of questions that is provided to you and select [Submit]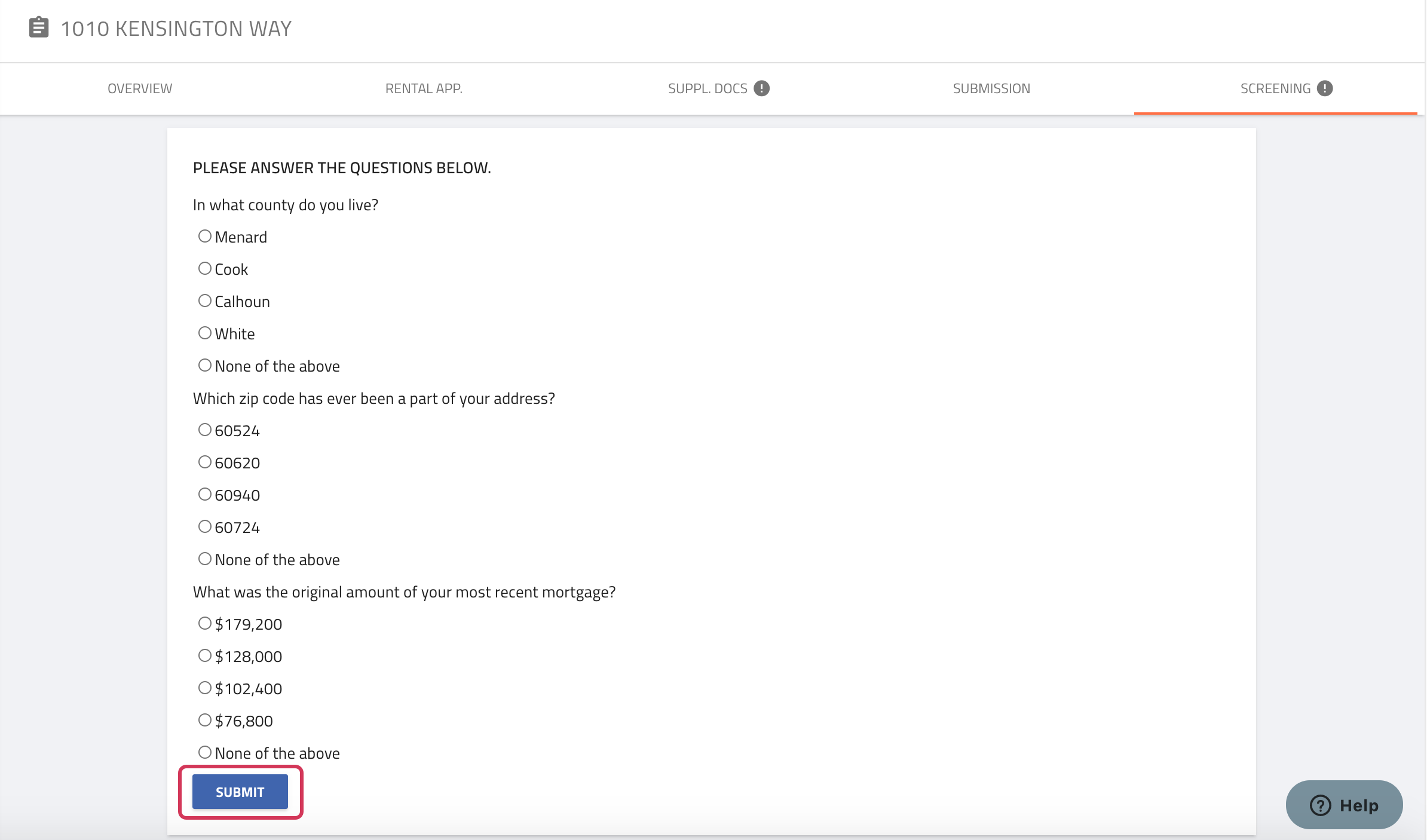 Step 5: Fill in your payment details for your tenant screening and select [Submit]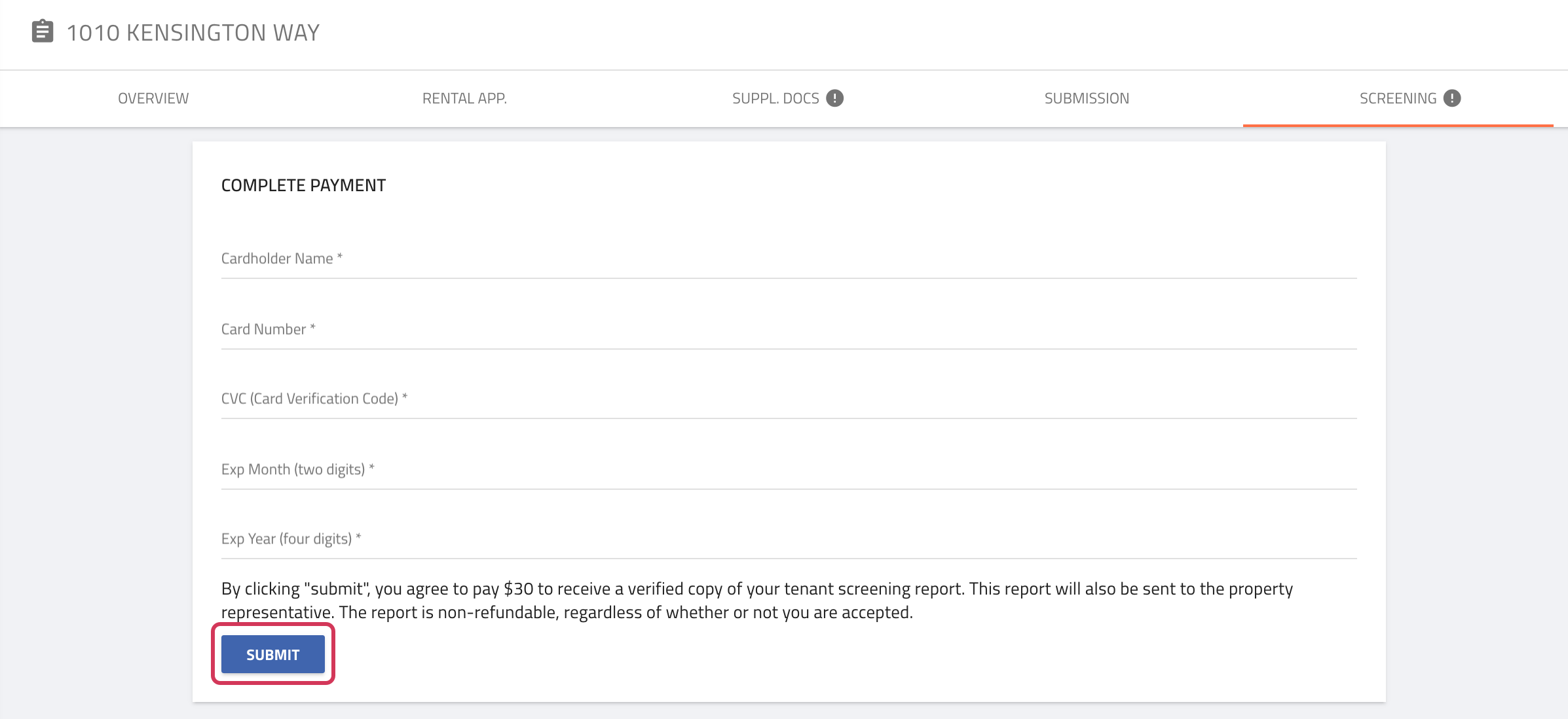 Step 6: You will receive a copy of your report once it is finished processing. For more information, please visit our support article: Do I also receive a copy of my screening results?
How much does the screening cost?
The screening charge is $40* for a comprehensive background and credit check. This amount is non-refundable.
*Please note: The Credit Bureau and the state of New York have worked together to create a $20 maximum fee for tenant screenings in New York. Hemlane will update the fee automatically for New York applicants.
What is included in my screening report?
(1) Credit Report
Comprehensive credit report and ResidentScore, with the following benefits:
Soft pull on credit - will not affect the tenant's credit score
Easy-to-read format
(2) Eviction Report
The report includes:
Tenant judgment for possession and money
Unlawful detainers
Tenant judgments for rent
Failure to pay rent
Writs and warrants of eviction
(3) Criminal Report
Effective November 1st, 2023, criminal records are available to return in the following states:
Alaska, Arizona, Arkansas, California, Colorado, Connecticut, Florida,
Georgia, Illinois, Indiana, Kansas, Kentucky, Louisiana, Michigan,
Minnesota, Mississippi, Nevada, New York, North, Carolina, Ohio,
Oklahoma, Oregon, Pennsylvania, Tennessee, Texas, Utah, Virginia,
Washington, West Virginia, and Wisconsin
Effective November 1st, 2023, criminal records are not available to return in the following states:
Alabama, Delaware, District of Columbia, Hawaii, Idaho, Iowa, Maine,
Maryland, Massachusetts, Missouri, Montana, Nebraska, New Hampshire,
New Jersey, New Mexico, North, Rhode Island, South Carolina,
South Dakota, Vermont, and Wyoming

National Sex Offender Public Registry Searches will NOT be effected.
For more information on this topic, please visit these articles:
keywords: screening report, complete screening, submit screening, how to submit screening, report, background check, applicant