The majority of transfers in Hemlane are accomplished through ACH (bank-to-bank transfer). It is the safest and most secure way to collect money from tenants. Hemlane provides one of the fastest ACH processing systems to transfer rent and other payments.
Hemlane's ACH payment processing generally takes 3 business days for paying customers with verified accounts. If a payment is made before the business cut off on the first day, then it could take 4 business days. And, first transfers to a new bank account and free trial user payments generally take 5 business days and could take up to 10 business days to address risk.
Click on the following to navigate quickly to different topics discussed in this article:
Standard ACH (bank-to-bank) Payout Schedule: up to 10 business days
You receive standard payment schedule under the following circumstances:
Non-paying customers (free trial)

Your first transfer to each bank account within Hemlane

Unverified bank accounts

At Hemlane's discretion (e.g. too many failed payments)
This standard transfer can take up to 10 business days if your account is flagged for additional security measures.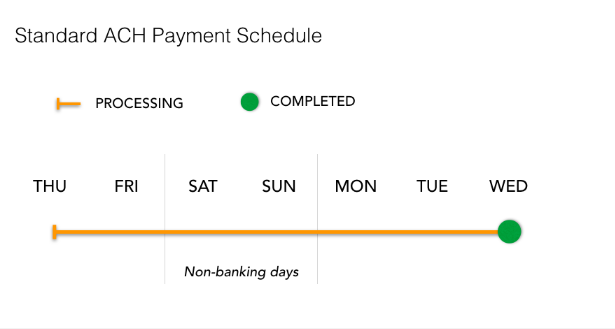 Fast ACH (bank-to-bank) Payout Schedule:

3 business days
You receive the benefit of our fast ACH payment schedule when you become a paying customer and have a verified bank account and transfer record. It generally takes 2 to 3 business days, as shown below.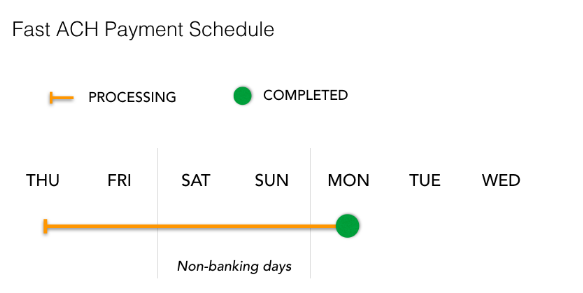 Exceptions to the Fast Transfer Schedule
When you have multiple transactions processing in Hemlane, you may experience a delay in certain payouts. Here are the three main reasons why your payment may experience a delay:
Prior payment failure - If another payment has failed or been disputed, then we will not be able to deposit the funds until the failure is resolved.
Single payment is $10,000 or more - If a single transaction is equal to or larger than $10,000, Standard ACH payment schedule will occur.
Delay due to clearance on funds - Funds typically clear within 3 business days. The payment processor allows payout of received funds after the third business day. When they see cleared funds, they match it to an earlier payout. Occasionally, they will match it to a payout that has not been cleared, rather than the first (cleared) payment. Since this may sound confusing, here is an example.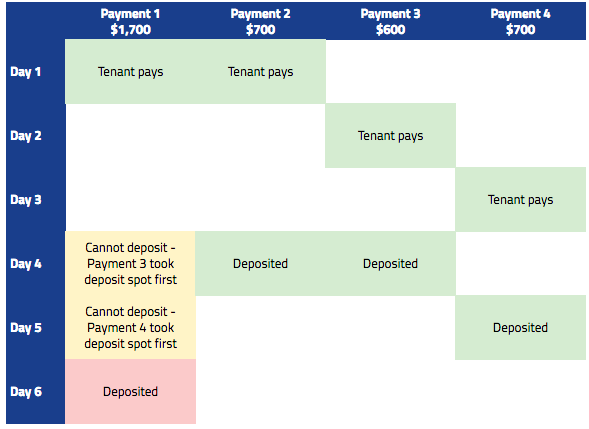 How to view the expected arrival date for a deposit
To view the expected arrival date of a payment, click the triangle to the right of the payor's name to open more details:

When the payor should expect funds to be withdrawn
Funds are withdrawn based on the standard ACH (Automated Clearing House) schedule, and it is best to check with your bank to confirm this schedule. Generally, the ACH network only processes transactions Monday through Friday, excluding holidays. For example, if the payor clicks PAY on Saturday morning, Hemlane will consider the payor as paid on Saturday although the transaction may not leave their bank account until the following Monday.
Hemlane vs. Zelle, PayPal, and Venmo
Zelle, PayPal, and Venmo are commonly requested payment methods by tenants for rent payment. These electronic money transfer apps often do not protect the owner and some such as PayPal, specifically list items such as real estate as items not covered by their purchase protection policy.
These electronic transfer services often:
Do not allow cancelling of payments
Have heavy transaction fees
Do not accept all types of bank accounts
Are unable to create future dated or recurring payments
Are unable to create and process late fees
Hemlane is able provide owners and tenants all of these features as we work with ACH (allowing transactions for both banks and credit unions) and have built our software to accommodate both owner and tenant needs.
Standard Credit and Debit Card Payment Schedule: 24 hours
Tenants can pay via credit or debit card, but additional fees apply. When an owner/manager sets up the payment request, they can decide who pays the fee. The fee for debit and credit is 3% of the amount paid. If you allow debit/credit card payments, then either the tenant will pay an additional 3%, or you will have 3% deducted from the total sent to you. In the event of a payment dispute on a credit card, the receiving user will be subject to a 3% fee.

Credit and debit card payments can take up to 24 hours to process.
Past Due Subscriptions
If your free trial has ended and you have not subscribed to Hemlane, we are unable to process any outstanding payouts. Please send an email to support@hemlane.com with any questions.



2023 Bank Holidays
| | |
| --- | --- |
| New Year's Day (Observed) | Jan 2 |
| Martin Luther King, Jr's Birthday | Jan 16 |
| President's Day | Feb 20 |
| Memorial Day | May 29 |
| Juneteenth National Independence Day | June 19 |
| Independence Day | Jul 4 |
| Labor Day | Sep 4 |
| Columbus Day | Oct 9 |
| Veterans Day | Nov 11 |
| Thanksgiving Day | Nov 23 |
| Christmas Day | Dec 25 |