Hemlane advertises your rental property to over 30 rental websites nationwide without any additional fee. However, there are some websites with a higher cost to advertise on their website. Hemlane charges more to cover our costs associated with these websites.
Below is a breakdown of our Premium Listing feature that allows you to boost your marketing power and fill your vacancy sooner.
*Please note our Premium Listing service is changing on October 8th, 2020. We have included below what the Premium Listing service will include after October 8th.
To quickly navigate to specific sections of the article, please click below:
What is the Premium Listing feature?
Hemlane's Premium Listing feature allows you to pay an additional monthly fee for access to additional exposure to tenants. You will receive access to exclusive listing partners such as Zillow, Rent.com, and HotPads.
Which websites are included with Premium listings?
Beginning October 8th here are the websites where your listing is exclusive (standard packages do not advertise here):
If you paid for a Premium Listing before October 8th, on October 8th you will receive the following:
Exclusive Websites (standard packages do not advertise here):
Featured Websites:
How much does Premium Listings cost?
Premium listings is an optional feature for $89 per month per listing, billed each month to allow your listings more exposure. You will get about 5x the number of leads for approximately $3 a day. Please note that Premium listings is billed each month and provides 30 days of additional exposure. If you turn off your listing before 30 days, there is no refund provided.
*Please note the price drop to $89 begins on October 8th. Upgrades before October 8th cost $160.
How do I turn on Premium Listings?
Step 1: Click into the Marketing tab on the left side main menu
Step 2: Click [edit] next to the property you would like to upgrade or select [+Upgrade to Premium for 5x the leads]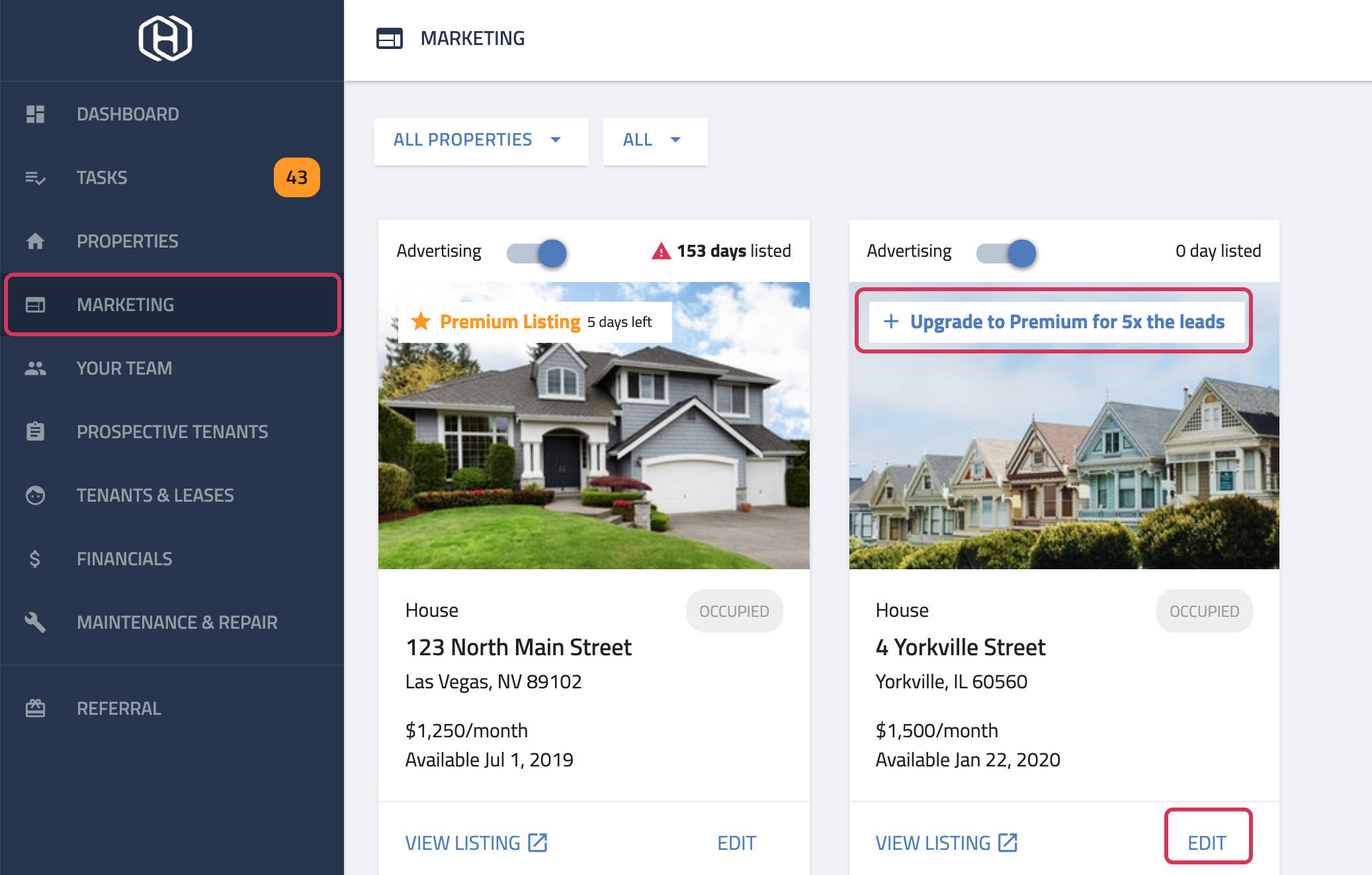 Step 3: Under the 'Advertising' quick-link on the left, click the [Upgrade now] button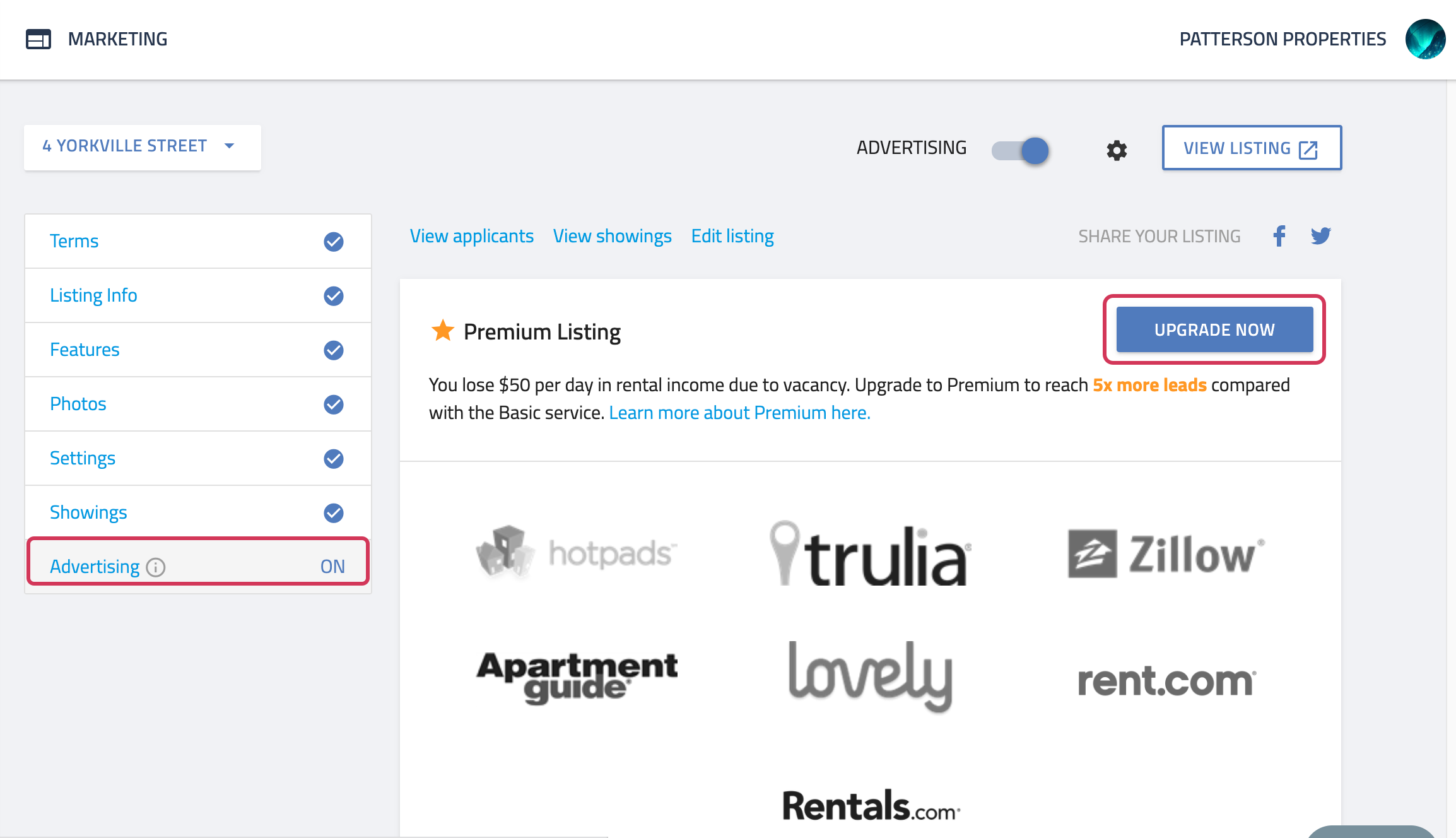 Will Zillow still pull the "for lease" listing from the MLS?
The Zillow Group (Zillow, Trulia, and HotPads) now requires a fee to post your listing to their sites in all states. You will want to touch base with the MLS to see what their agreement is with Zillow.

Zillow has separate contracts with every company and will not share pricing or contracts with Hemlane. You can read more about Zillow charging for rentals here.
Why should I pay extra to advertise my rental through Premium?
Everyday your property is vacant, you are losing money, typically over $50 per day. This feature will increase exposure to tenant leads, providing a faster turnover and reduce your vacancy. Most professional managers pay for enhanced listings.
What about Facebook Marketplace?
This request has come up quite often. They do not have an API but when they do, we will definitely consider a partnership with them.
For more information on this topic, please visit these articles:
keywords: premium listing, $160, 160, exclusive, featured, Oregon, Colorado, Florida, Facebook, Facebook Marketplace,cost