The Hemlane application is designed to be simple and comprehensive, and is based on the best practices for property management. Here are the sections and fields within the rental application:
General Information
Contact Information
Full Name
Email
Phone Number
Personal Information
Does the applicant have any pets?

Number
Type
Additional details

Does the applicant have any vehicles?

Make
Model
Year
License #
State
Color

Does any proposed occupant plan to use liquid-filled furniture?
Has the applicant been a party to an unlawful detainer action or filed bankruptcy within the last seven years?
Has applicant or any proposed occupant ever been convicted of or pleaded no contest to a felony?
Emergency Contacts
Name
Phone Number
Email
Relationship

Residence History
Address
Dates (from - to)
Self-owner?
Manager/property owner

Full Name or Company Name
Phone Number
Email

Reason for Leaving
Note: We require two residences (past and current) as the current management may not know the condition upon move out.


Employment History
Company Name
Title
Dates (from - to)
Address
Manager

Full Name
Phone Number
Email

Gross Income
Other Income
Additional Comments on Income
Note: We require two employers (past and current), since duration to confirm stable income is important.
Bank & Assets
Bank | Institution Name
Account Type
Current Balance

Personal Reference
Name
Phone Number
Address
Occupation
Relationship
Length of Acquaintance
Supplementary Documents
Pay Stub or Tax Documents (W2)

Require 2 if self employed to confirm stable income over time

Bank Statements
Other

You can select what you want to show here
After the application is submitted, then you can request for the screening (background and credit) check.
Here is an example of a completed application: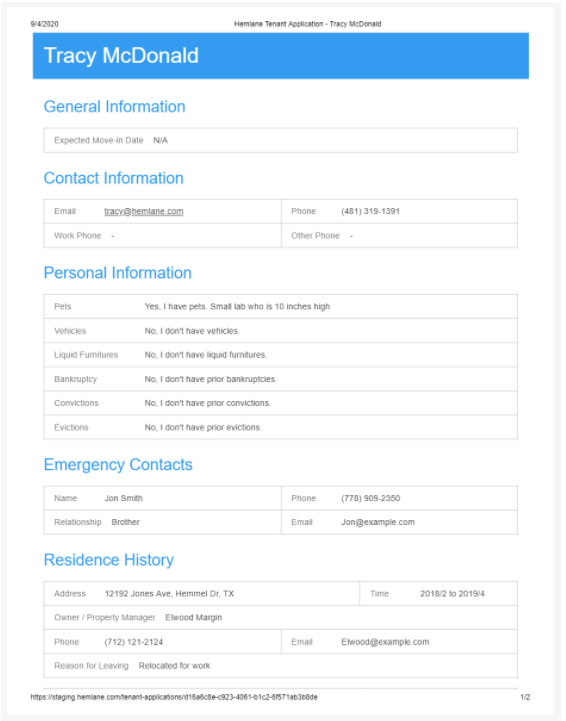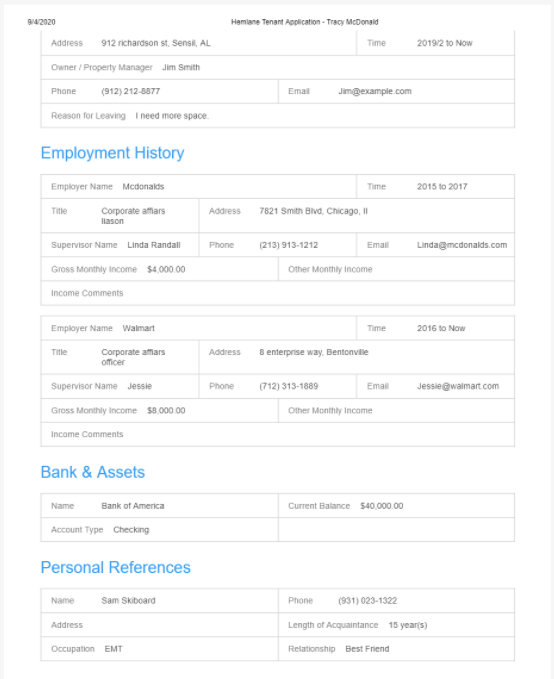 keywords: application, what does it contain, what's in the application