When you invite tenants to Hemlane, each of those tenants will be asked to register their own Hemlane account which gives them access to submitting their rent payments, creating maintenance and repair requests, and communicating with you.
To quickly navigate to specific sections of the article, please click the links below:
What do my tenants see when I send them an invitation to Hemlane?
Inviting a tenant to Hemlane through your Tenants & Leases tab will send the tenant an invitation via email to register an account with Hemlane.
Once they click through the email and have successfully registered their Hemlane account as a tenant, they will be brought to their main Dashboard tab which will request they accept the invitation to their rental: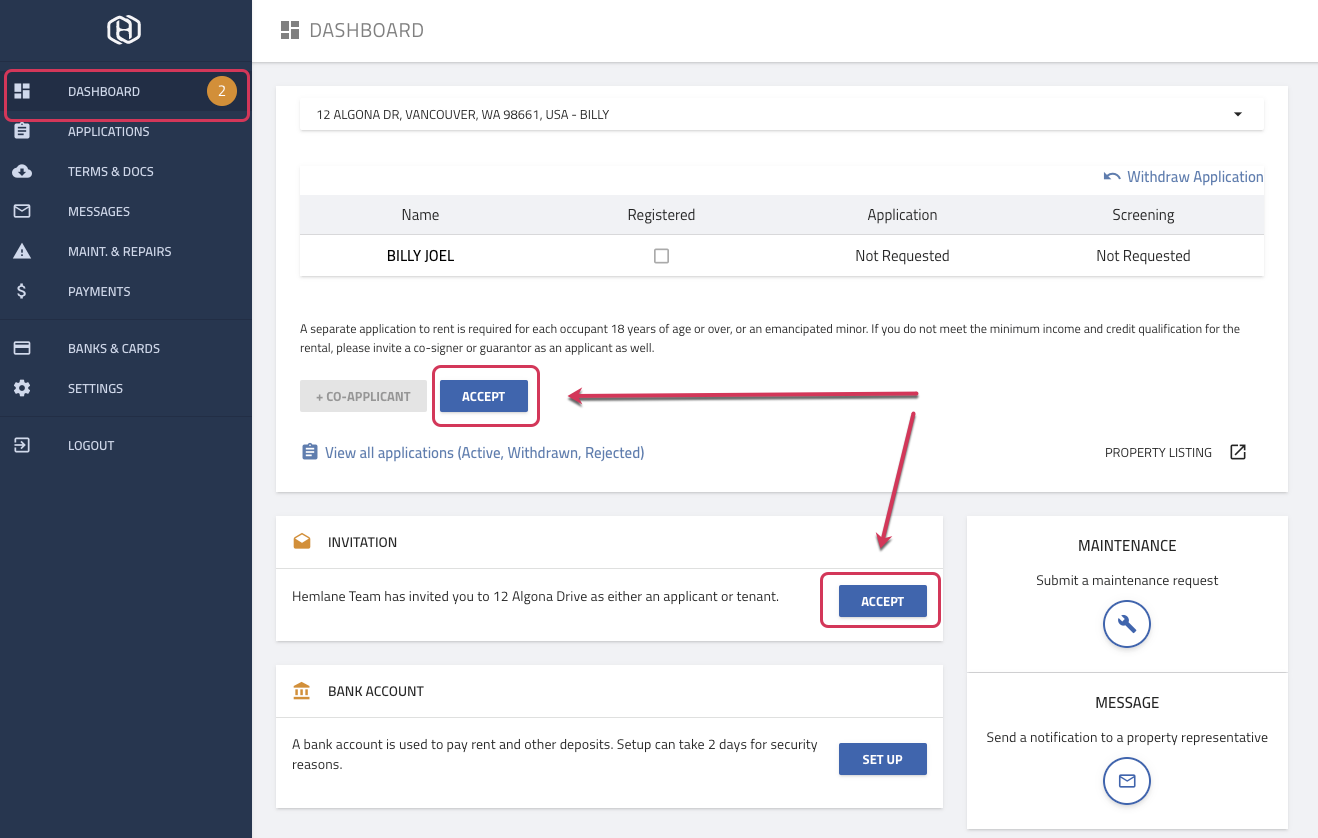 As soon as they accept the invite, their Dashboard tab will adjust to show their proper lease terms: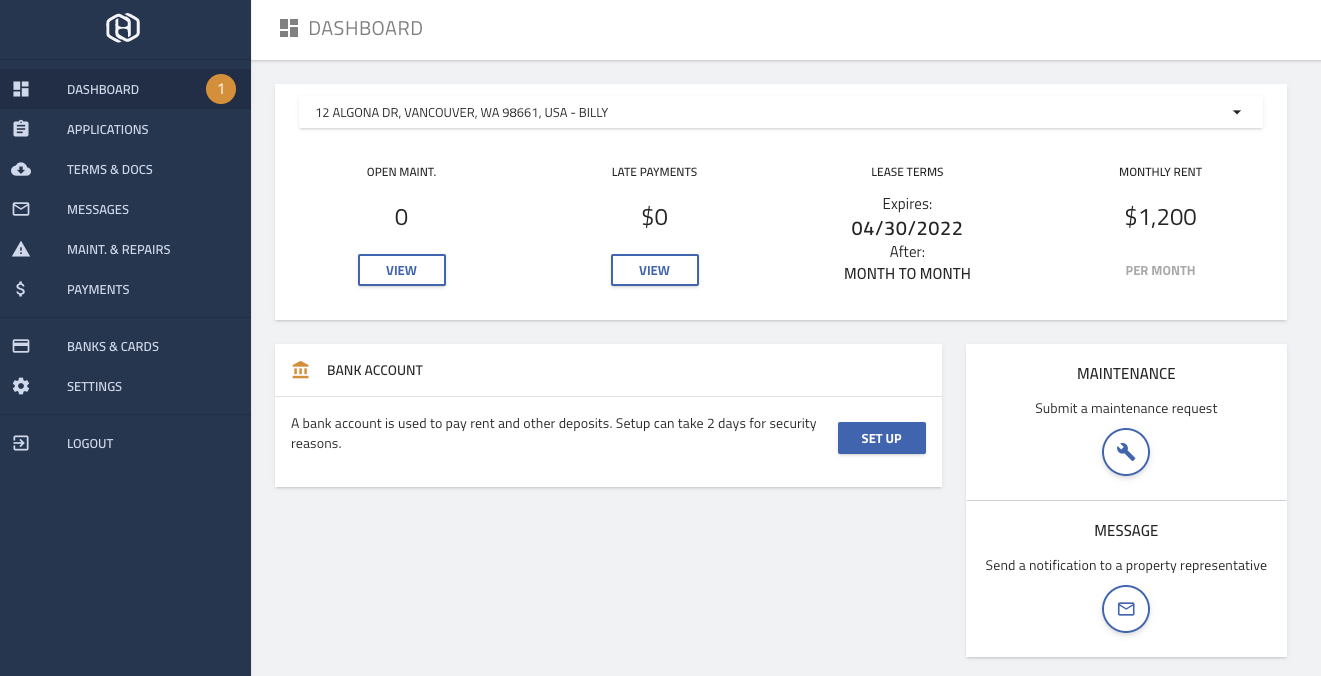 Please Note: If your tenants are having trouble receiving the invitation email, they can register their account directly through this link: https://www.hemlane.com/users/sign_up. Please keep in mind they have to register with the exact same email address you have invited them with in order for their account to connect to the rental property.
What do my tenants see on their Dashboard tab?
The top of the tenant Dashboard tab will populate data such as lease terms, total amount of payment due, and number of maintenance requests that are open.
The rest of the dashboard provides quick links for any tasks they have on their account such as paying outstanding transactions or adding in a bank account. The Dashboard tab also provides quick links to send a message to the property management team or submit a maintenance request.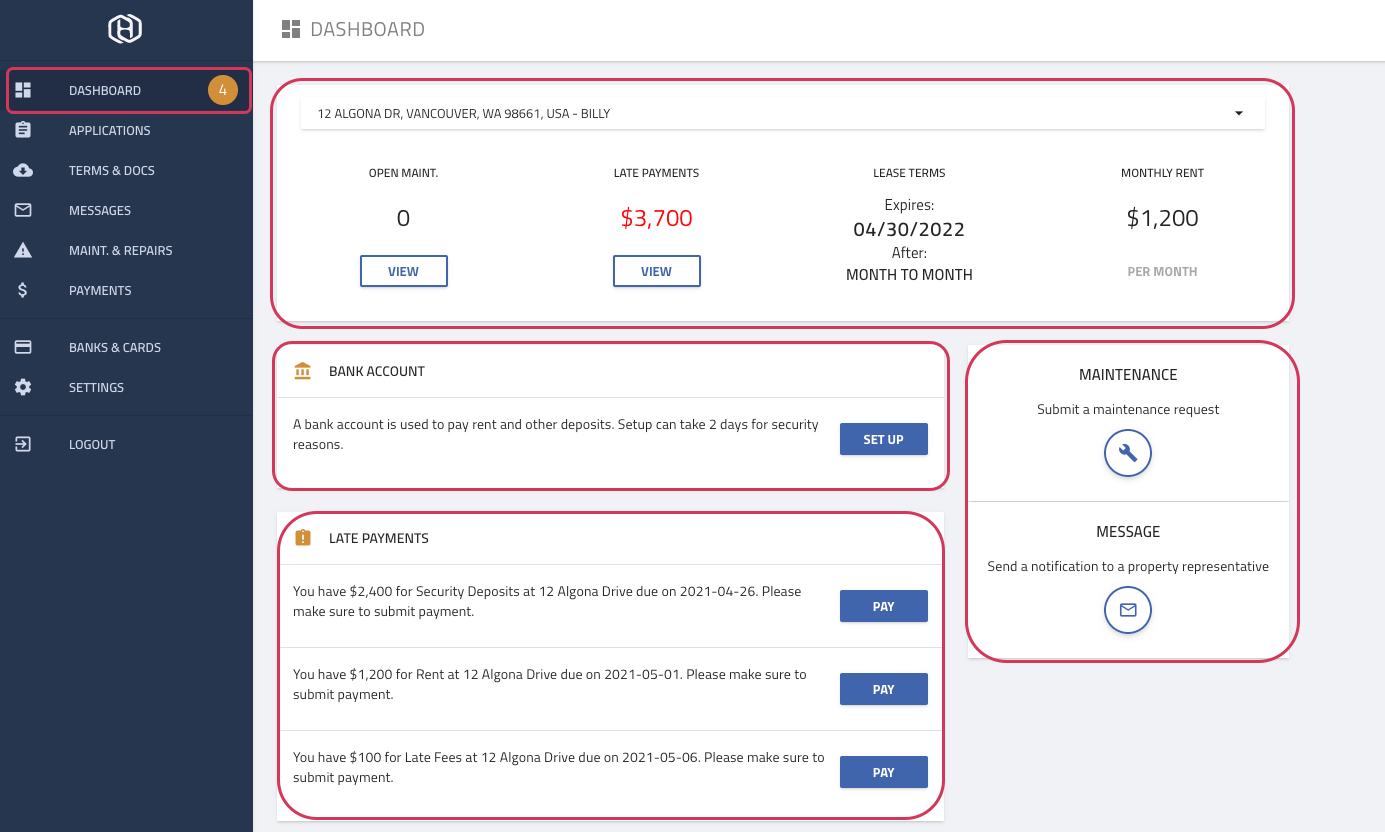 How can my tenants add in a bank account?
If your tenants have not yet added in a payment account, they will have a task on their Dashboard tab to [Set Up] their bank account. They can click this button to take them to their Banks & Cards tab, or they can select the Banks & Cards tab directly on the left hand main menu: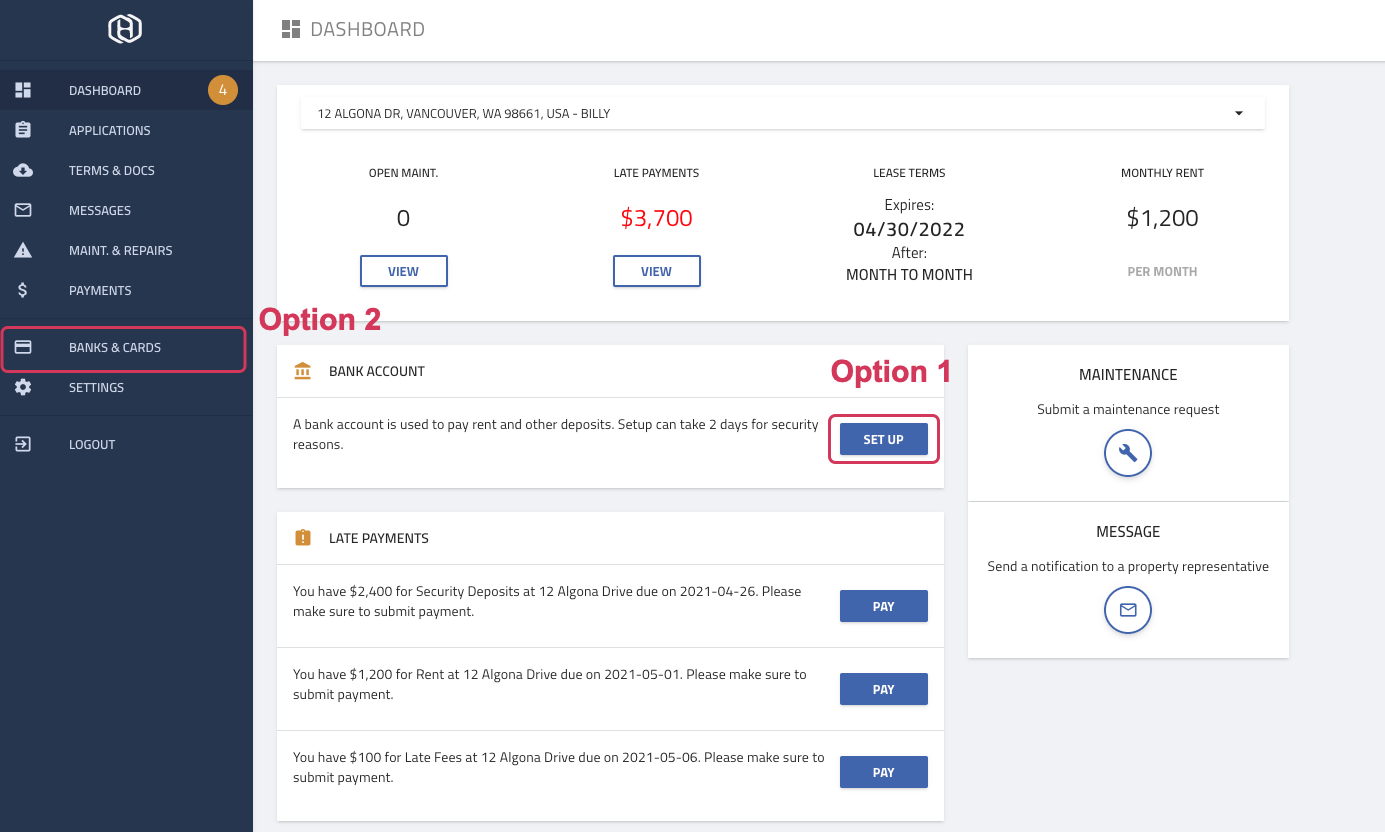 Once they are in their Banks & Cards tab, they can add in an account by selecting [+Account] and walking through the steps of adding in a payment source. For more insight into the rest of this process, please see the tenant support article here.
How can my tenants submit payment on their account?
Tenants can submit payment on their account by selecting the [Pay] button on their Dashboard tab under their Payments list: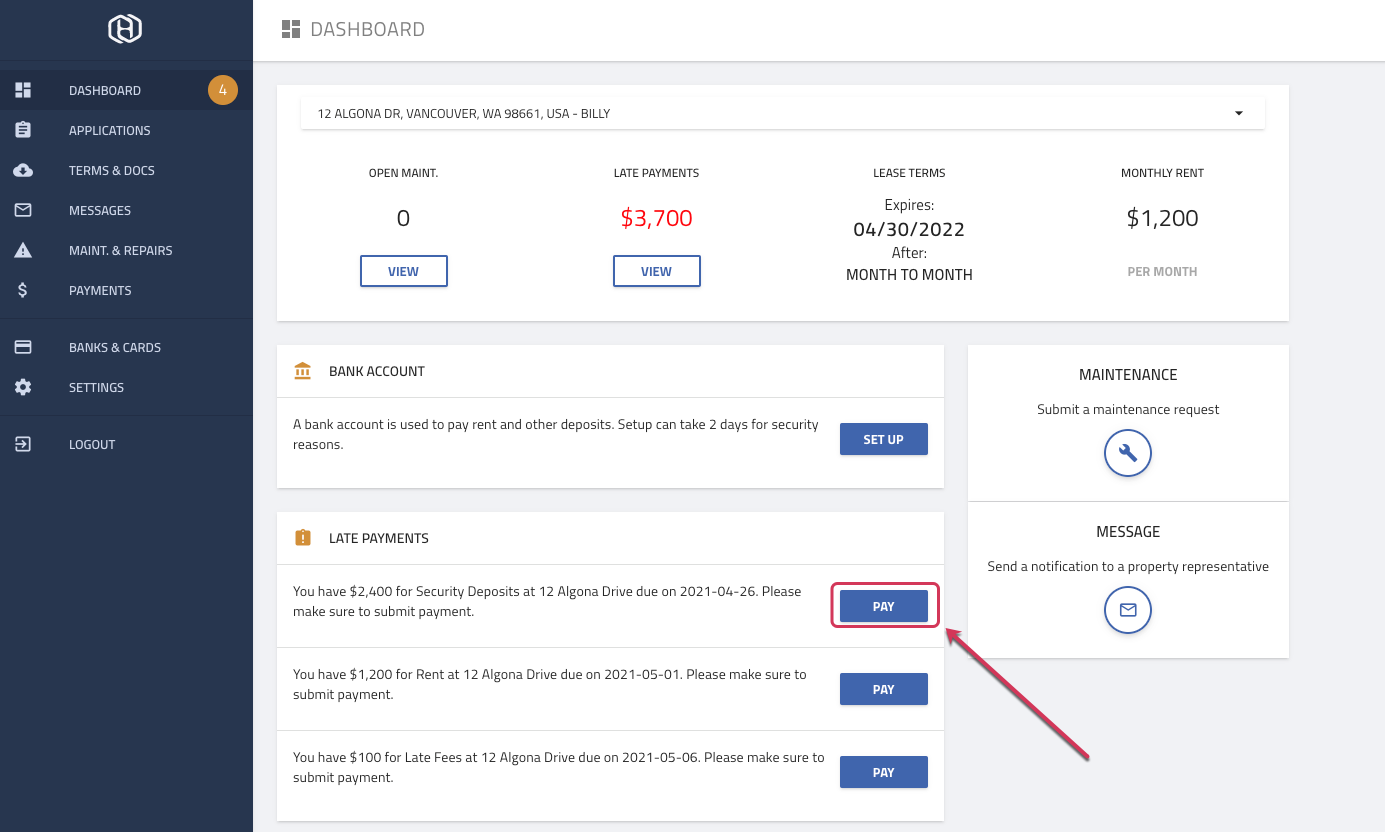 They can also submit payment by clicking into the Payments tab directly on the left hand side to view their list of transactions. Here they can click on the transaction they wish to pay, and select the [Make Payment] button.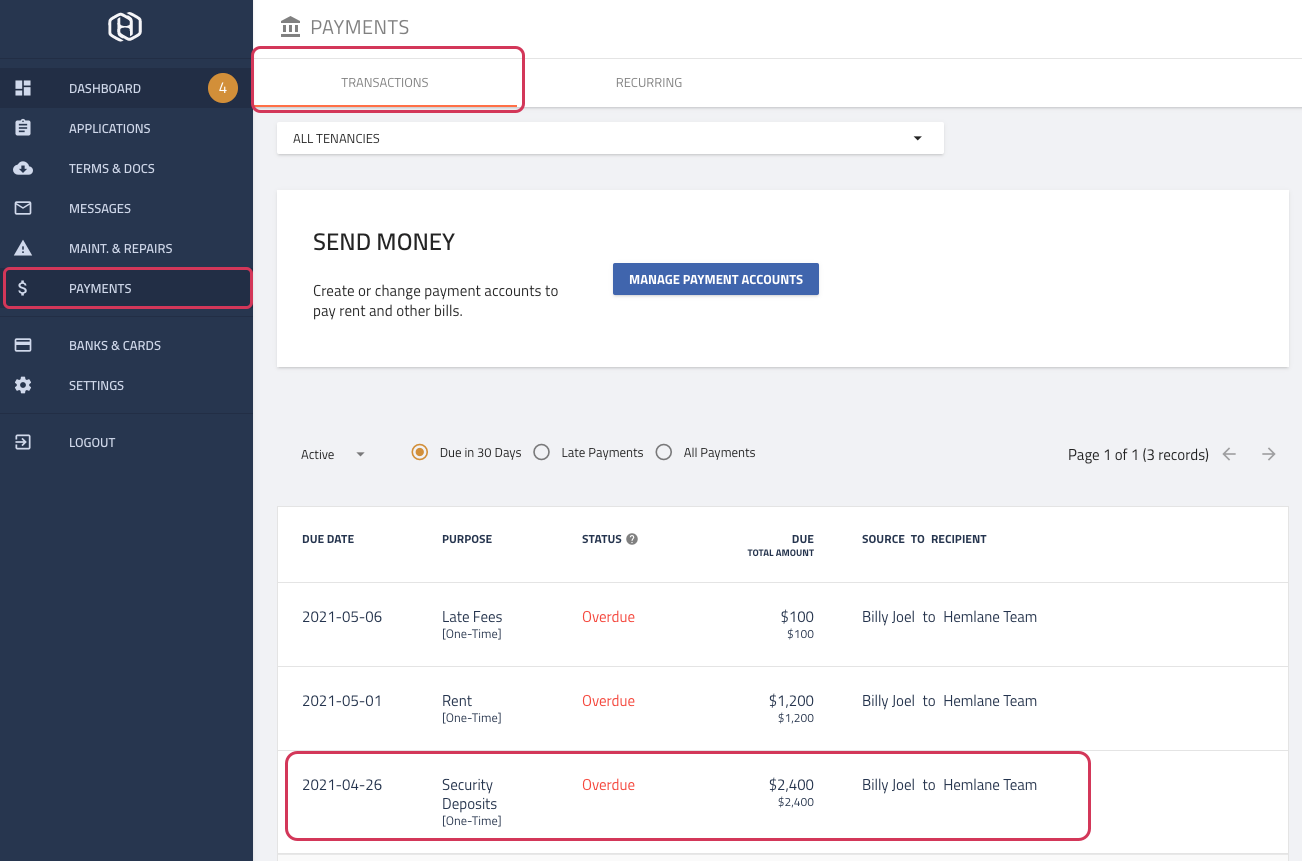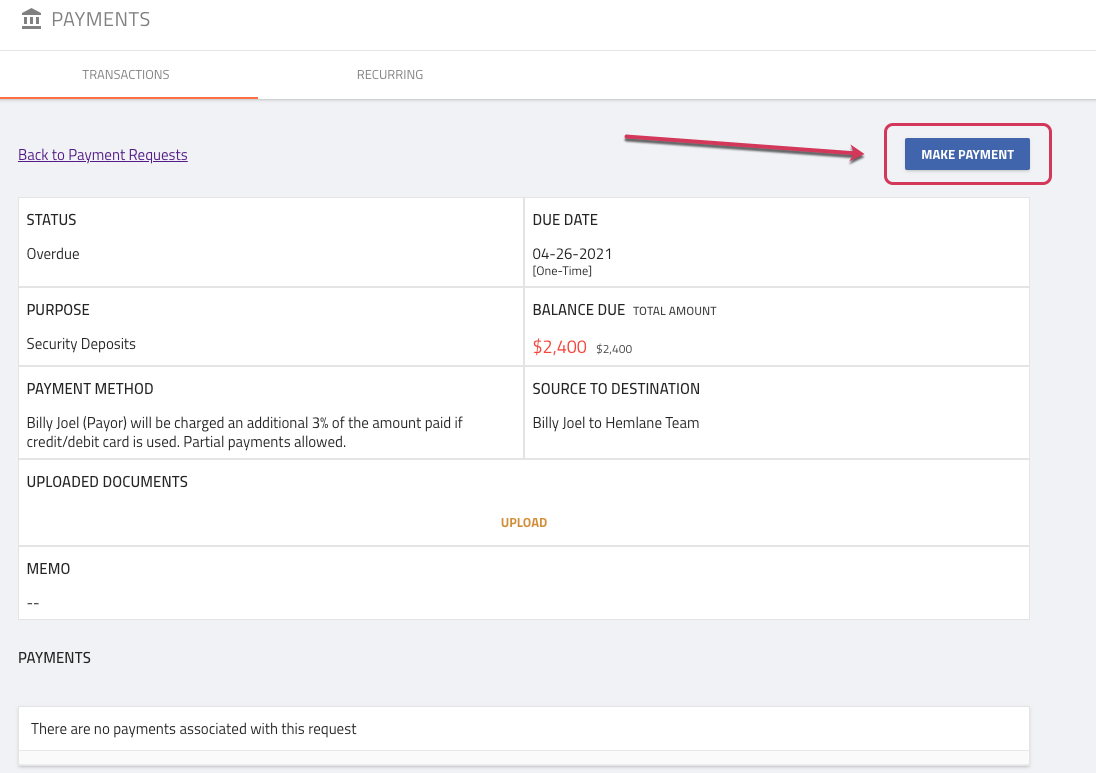 For more information, please view the support article for tenants, How do I make an online payment as a tenant?
How do my tenants submit a maintenance or repair request?
Tenants can submit a request for maintenance or repair under their Maintenance & Repairs tab by clicking [+Request] in the upper left corner of their screen: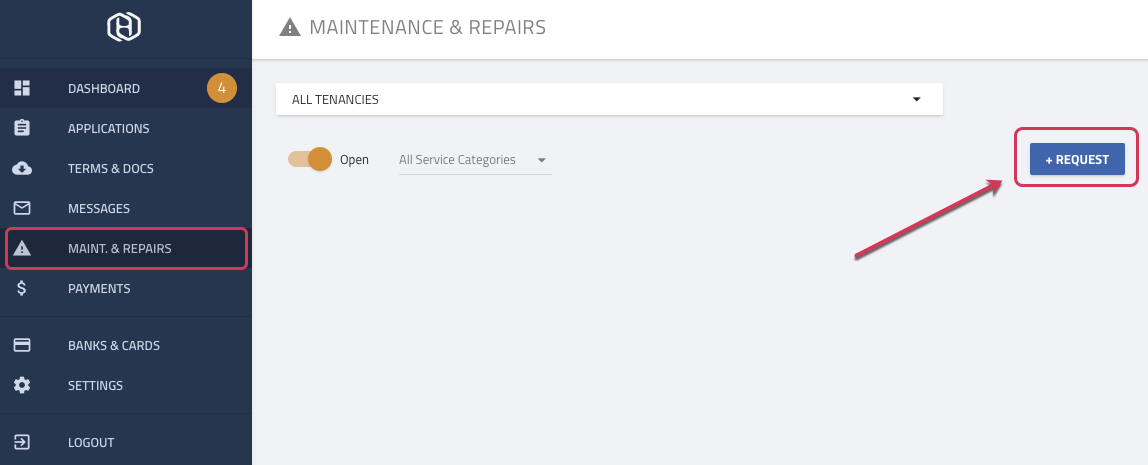 When opening a new maintenance request, your tenant(s) will be asked to add in as much detail as possible for the request as well as the ability to submit photos. Keep in mind there is a minimum of 20 characters for the "title" section and a minimum of 100 characters for the "description" section in order for tenants to open a maintenance request.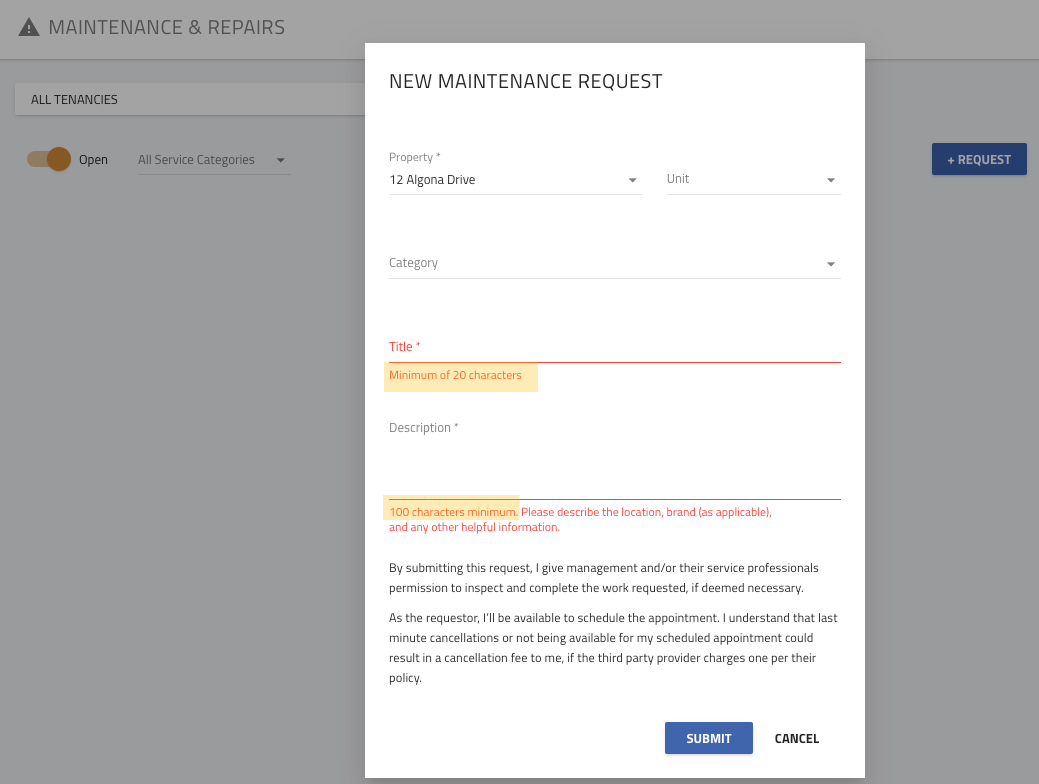 For more information on this topic, please visit these articles:
key words: tenant dashboard, tenant portal, tenant screen, dashboard tab, view on tenant side